As an educator, speaker and blogger, people send me articles on a wide range of education topics. My husband's grandmother sends me articles in the mail, my father-in-law forwards interesting NPR segments via email, and my neighbor down the street leaves newspaper clippings in my mailbox.  Last week when I met up with my parents in Avignon, France for a shared holiday Mom mom presented me with an article titled "The Drugging of the American Boy," published by Esquire Magazine in April.
Not only do I teach teenage boys ranging from 14 to 16, but I also have a 5 year old son, so the topic was relevant to me as both an educator and parent. The article begins with the shocking statement that "if you have a son, you have a one-in-seven chance that he has been diagnosed with ADHD." The article documents the dramatic increase in both the number of children being both diagnosed with and given prescription drugs to treat ADHD. In 2013 the Centers for Disease Control and Prevention "released data revealing that 11 percent of American schoolchildren had been diagnosed with ADHD, which amounts to 6.4 million children between the ages of four and seventeen."
As I read the article, which questions the causes of the 42% increase in ADHD diagnosis since 2003, I could not help but think about the traditional classroom setting and how "unnatural" it is for young children, particularly those who are high energy, to sit for long periods of time.
My own son transitions from his Montessori preschool to kindergarten this year. I am both excited and nervous for him. At his preschool, he is given the freedom to decide which "work" he will do in the classroom, and the kids are taken outside several times each day to play. He is often running hot laps in the yard with other little boys when I arrive to pick him up.
My son is active, energetic, and curious. These should all be wonderful qualities that are celebrated. Unfortunately, that is not always the case. Too often teachers are working in overcrowded classrooms that don't allow for much movement. Many teachers are also forced to teach without the necessary supplies to stimulate, engage, and challenge students. I face these same obstacles in my own classroom, which does not lend itself to movement or exploration.
For the last four years, I've focused on creating a student-centered classroom. I've tried hard to create a space that facilitates conversation, collaboration and creation. This is not easy to do with with fairly traditional desks and classes of 30+ students, yet I make it a point to get kids moving around the room during our 90 minute block period. There are several strategies I use to do this. I wanted to share them with other teachers who, like me, work in traditional settings but want to provide students with more opportunities to engage with their peers to enhance learning.
1. Four Corner Conversations
Every day I break students up into four discussion groups. I call it four corner conversations since each group sits in a circle in one of the four corners of our classroom to discuss the previous night's reading or online discussion. As you can see in the picture below, there isn't a ton of room, but we make it work. The conversations get students out of their chairs and are more intimate giving everyone a chance to share their ideas.
2. Tea Party
I have no idea where this name came from as there is no tea served, but the idea is a fun one. Give every student a quote on a related topic. For example, during Fahrenheit 451 the quotes relate to conformity and nonconformity. When we read Lord of the Flies, the quotes are all about human nature. The students have to read their quote to as many classmates as they can in 5 minutes. Then we have a follow up conversation as a class about the quotes they found most interesting and powerful. Just the act of standing up and moving around makes this activity fun for students.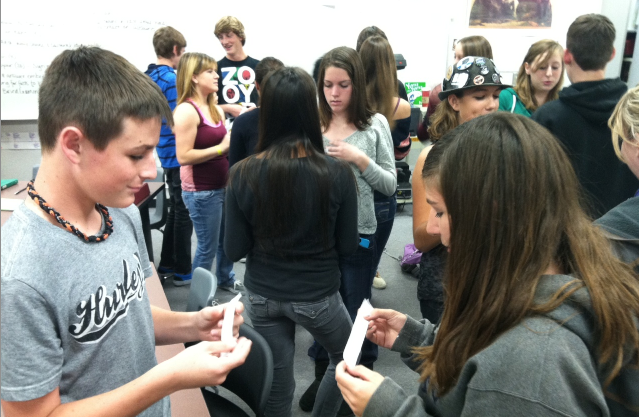 3. Learn by Doing or Building
I wrote a blog about incorporating elements of the Maker Movement into my English class this year. For example, instead of telling my students everything I know about Shakespeare's Globe Theatre, I had them do research and build a replica of the Globe Theatre. It was incredible to watch them face challenges, problem solve, and create. Kids are incredibly creative if we give them time and space.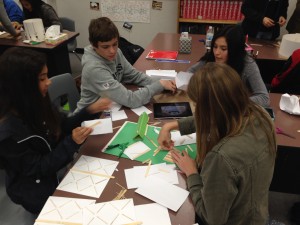 4. Visit a Computer Lab
My school only has 2 computer labs for a campus of 1750 students, but I reserve a lab as often as possible so students can learn in a different setting. Since I have no actual technology in my classroom, save my students' devices, I use these times in the lab to do synchronous editing or allow them to work in real time collaborating on projects using a range of web tools and Google apps.
5. Crowdsource Instead of Lecturing
It's not fun for students to sit still, listen and take notes for a prolonged period of time. I've tried to replace some direct instruction with crowdsourcing. Instead of telling students about Shakespeare's sonnets or life during the Great Depression, I allow them to work in groups with their devices to research information and share it with the class. The energy in the room is so different when students are asked to generate the information!
6. Go Outside
Throughout the year, I ask students to go outside. I'll ask them to go to the quad and leave me a voice message (using my Google Voice number) about their four corner conversations. When we are reading a Shakespeare play, they rehearse their lines outside before they perform in the classroom. Simply going outside gives them more room to move around and more space to make noise (away from other classrooms, of course).
7. Lights, Camera, Action!
Get students performing. Yes, teenagers can be shy, but they also have a flare for drama. Tapping into that can be thoroughly entertaining. During our Othello unit, my students don't read Shakespeare's play, they perform it! If you are thinking…but I teach science or history or math, how can I do this? If you teach science or math, have students create their own YouTube channels featuring cool demonstrations and funny commentary on science or math modeled after Veritasium, Vi Hart or Vsauce. If you teach history, have students perform and record reenactments or create short History.com style documentaries.
8. Storytime
Every week I ask students to sit on the floor for a children's story. At first they think I am crazy, but they love this routine. Regardless of the subject you teach, there are awesome picture books on a related topic. I'd make time to read to your students.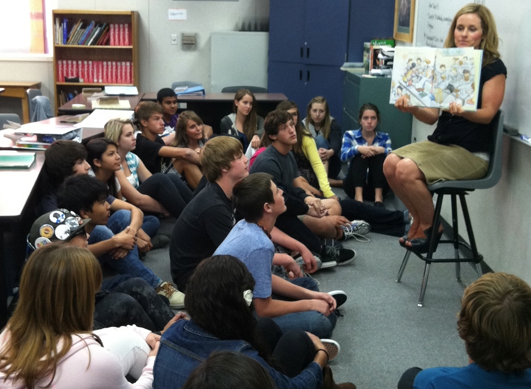 My efforts to encourage movement, conversation and collaboration have been incredibly rewarding. I don't have classroom management issues and my students often comment on how quickly our 90 minute period flies by. I wonder…if more classrooms encouraged movement and embraced the chaos involved in creativity, would the number students being diagnosed with ADHD be so high?
Kids will be kids. I believe we will get more from our students if we remember that many of our students need to move to learn. If we want to cultivated excited life long learners, we need to create an environment that sparks curiosity and fosters creativity.