Today I took my classes to the computer lab to do synchronous editing on an essay they are writing. As they continued to work on their essays, I edited them. This way we can work simultaneously on their documents and use the instant chat window to discuss questions or problems.
While I was working, I saw a new feature in the upper right hand corner of their Google documents below the grey "Comments" button.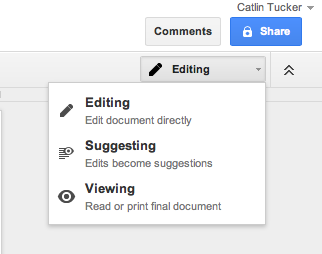 Now, any user with "can comment" access to a document can make suggested edits to the document. These suggestions are marked by a green bracketed box and a comment is automatically attached. For example, if a student did not indent the first line of his/her body paragraph and I indent it for them, it marks the change in green and leaves an automatic comment.
If I delete a word or phrase, it appears in green with a strikethrough and a comment is generated. This allows me to make in text changes that are easy for students to see. They can either keep the "suggested" change or remove it.

My favorite part of this new change is that it highlights my in text comments in green. I've shared my trick for customizing preferences in Google documents to make grading faster in a previous blog titled "Google Docs: Grading Tips and Tricks."
Teachers can create shortcuts in their Google docs so that if they write "awk," it automatically becomes [awkward wording – rework for clarity]. In the past, these changes appeared in black. Now they appear in green when a teacher is in "suggesting" mode. They visually stand out on the page and are easier for students to see.
In the example below, my student misspelled the word society. I have my preferences set so that if I write "sp" with a space in any Google document, it automatically becomes [spelling error]. Now, that phrase is highlighted in green and a comment is generated.

I'm so thrilled about this new feature, I had to share! It acts like track changes in Word making it even easier to provide valuable formative feedback as students work on their documents. I also appreciate that students have the freedom to decide whether they want to make the suggested change or not. This encourages them to think more deeply about the changes that have been suggested.
For anyone interested in setting their preferences in Google documents to create automatic shortcuts for comments, check out the screencast below.