While killing time in the airport last weekend, I watched a series of Jimmy Fallon Tonight Show clips. While watching Jimmy Fallon and Bryan Cranston playing "Word Sneak," I was inspired! I decided to use this game format for a vocabulary review in my class.
Here are the steps for any teacher who wants to replicate this thoroughly entertaining vocabulary review game:
1. Start by playing a clip from The Tonight Show, so students know what they are being asked to do. Definitely preview the clip you plan to use to make sure it is appropriate for the grade level you teach.
2. Break up a list of vocabulary words into two shorter lists. I printed them out, so students could mark the words they were able to successfully and seamlessly "sneak" into the conversation.
3. Put students into pairs facing each other conversation style. Give each person a list with vocabulary words. Note: each member of the pair should have a different list of words.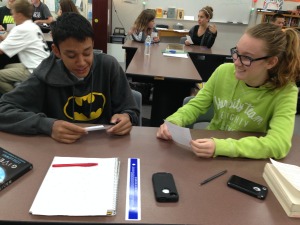 4. Ask pairs to exchange their lists temporarily and allow students 60 seconds to add 3 random, silly (yet school appropriate) words. This adds some spice to the activity.
5. Once students have added random words to their partner's paper, ask them to exchange papers and begin! As they "sneak" words into the conversation, they can check the words off of their list. However, if their partner does not think the word was inserted into the conversation "casually and seamlessly," then they do not earn a point for that word. Note: I'd suggest setting a timer for 5 minutes.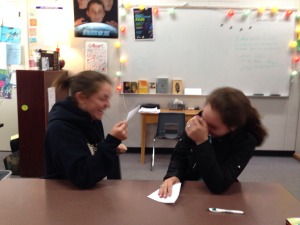 6. The person who successfully sneaks the most words into the conversation wins!
This game was ridiculously fun! I tweeted Jimmy Fallon (and The Tonight Show) to thank him for inspiring this fun activity. Look what I got in return! My students were totally pumped.
The video below provides a window into my classroom while we are playing Word Sneak!