Whenever I'm asked the question, "How do we fix education?" I find myself emphasizing the importance of creating smaller learning communities within the context of the larger classroom. I passionately believe the most effective learning communities are those that allow teachers to spend more time working individually or in small groups with their students to customize and personalize instruction.
Smaller learning communities also provide students with more opportunities to work collaboratively and engage in a variety of activities that appeal to different learning modalities (auditory, visual, tactile and kinesthetic). Students engage with the world in different ways, so it's important to keep activities and tasks varied to ensure every student is able to receive and process information in a way that works for them.
My interest in blended learning and weaving together learning mediums to include both in-class and online learning was in part driven by my desire to create smaller student-centered learning communities in my classroom. One strategy for a teacher interested in pursuing this approach come fall is experimenting with the Station Rotation Model–a blended learning model.
Station Rotation Model
The Station Rotation Model does exactly what the name suggests–students rotate through learning stations either on a fixed schedule or at the teacher's discretion. At least one of the stations must be an online learning station for this to be considered a blended learning model.
Learning stations are not a new concept in education, so this is an easy model for teachers who are shifting from a traditional teaching model to a blended learning model. Teachers can use this model within a traditional classroom setting by simply breaking students into small groups and having them rotate through different stations set up around the classroom or rotating the whole class through a series of learning activities.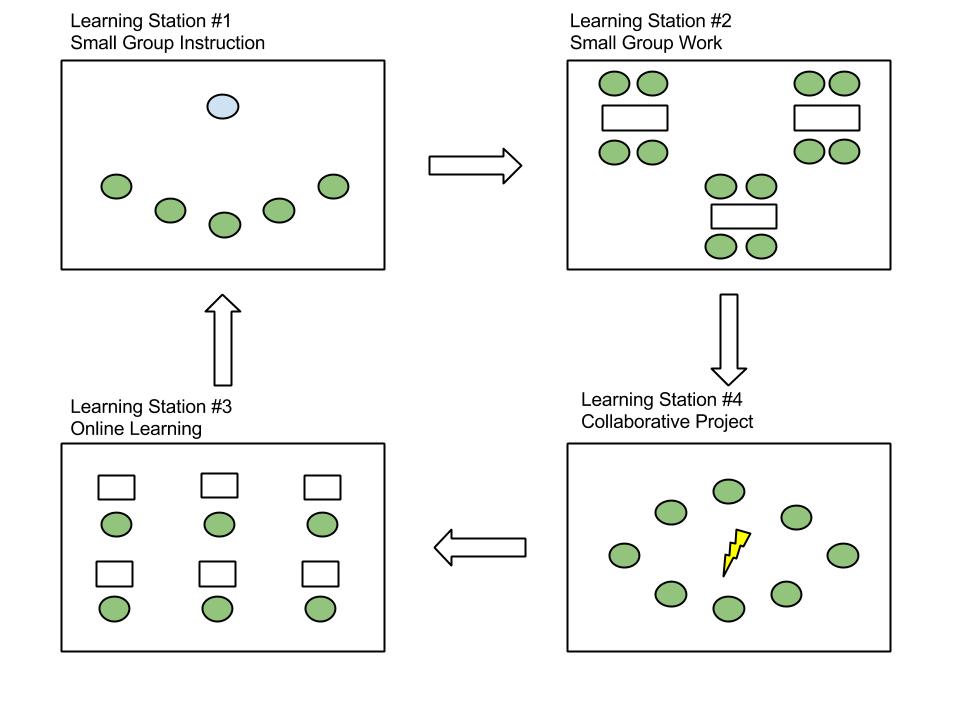 This model is flexible and can work with almost any age level or subject area. My classes are usually composed of 30 students, so I tend to design a minimum of 6 stations. That way my stations do not exceed 5 students, which feels like the maximum amount of teenagers who can be in a group and work together effectively. I have 90 minute block periods, so I typically have them work 12-15 minutes in each station or we break the work up into 2 days and they can have 25-30 minutes in each station.
I find it's helpful to sketch out my stations on paper and ask myself the following questions:
What is the objective of each station? Will students produce something?
How much time do students need in each station? How long will they have to transition between stations?
What materials do they need in each station? How many devices are needed for the online learning stations? Do they need any special programs, apps, or software?
What will be the cue for them to transition to the next station?
Will directions be frontloaded, provided in written form at each station, or presented via mini-video tutorial at each station?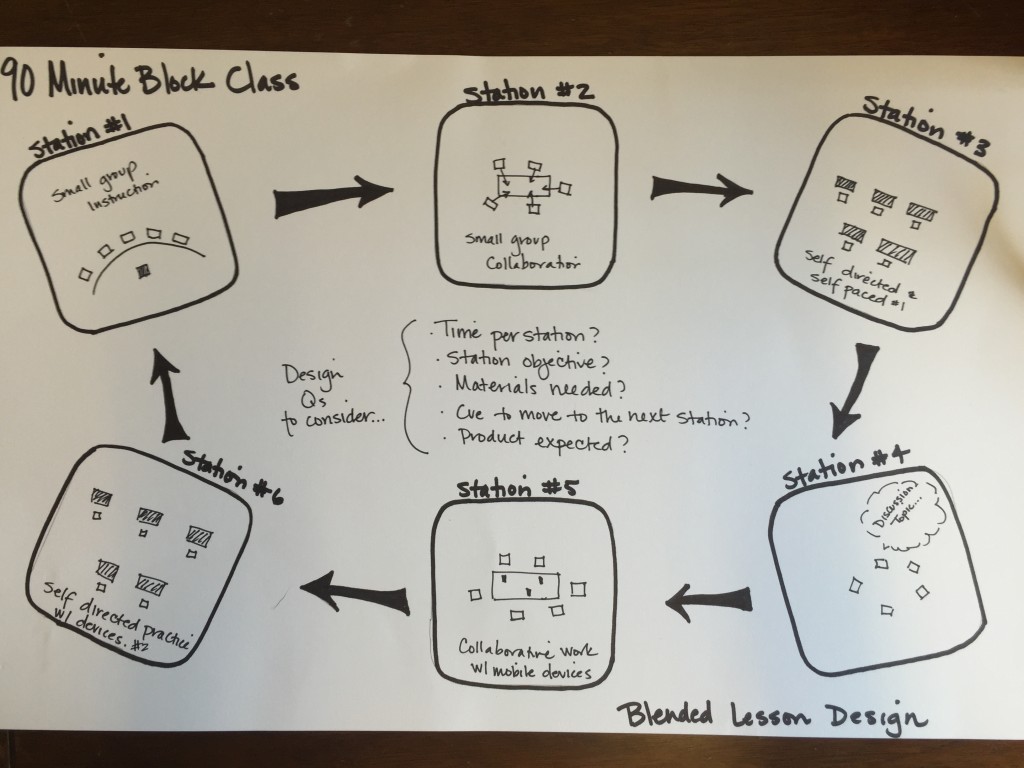 The online component can take many forms ranging from students using dynamic creation tools to researching topics to using adaptive software depending on the objectives of the lesson. However, the addition of an online component requires that teachers have access to technology in some form or another to execute the Station Rotation Model in their classrooms. I don't have any actual hardware in my classroom, so I have to use student devices or arrange to take my students to one of our computer labs on campus.
As a teacher, it takes more time to plan this style of lesson; however, the benefits far exceed the challenges. I love being able to work with a small group and provide real-time feedback, answer questions, lend support, or direct students to an online resource. Students also enjoy the freedom they have as learners in this model. I am not hovering over them or controlling the pace of their learning. They are driving the learning, which is much more powerful for them.
A teacher does not have to use the Station Rotation Model for every lesson, but it is an easy way to explore the benefits of blending online work with face-to-face interactions to create smaller learning communities that are student-centered.