Teachers are preparing for an uncertain future. Many are unsure if they will be returning to school on a traditional schedule, a blended learning schedule, or completely online. Teachers are questioning how the instructional strategies they have used in the past will work if students are coming to school on a modified schedule or if they are learning online.
I've written extensively about the station rotation model, which many teachers enjoy using but are unsure how to modify in this era of social distancing. This post is designed to create clarity about how to take this blended learning model and adapt it to meet the needs of a socially distant classroom or to create an online lesson.
First, I want to review the benefits of the station rotation model:
It frees the teacher to work with small groups of students.
It makes differentiating instruction more manageable.
It creates smaller learning communities within the larger class.
It encourages communication and collaboration among students.
It shifts the focus from the teacher to the learners.
I realize there is a lot we do not know about the next school year, but here is what I do know.
Teachers can expect to have students in need of remediation or reteaching. The transition to online learning in spring happened suddenly and without sufficient preparation. As a result, many students disengaged and missed out on the learning they would have experienced in a physical classroom.
Students may be struggling with fear, anxiety, and depression as a result of the events that have taken place in the last few months. Students may have lost loved ones to COVID19 and families may be struggling with economic insecurity because of the pandemic. In addition, the protests and growing awareness about racial injustice in this country are likely impacting our students' lives.
Students have spent months socially distancing and feeling disconnected from their friends and their school community. Many may be missing the routines and interactions associated with their school days.
Given these realities, teachers will want to think about how to design their lessons to ensure they are able to remediate and differentiate, create time to connect with individual students, and foster communication and collaboration among students. The station rotation model offers an avenue to accomplish all of these goals.
Eliminating Movement Between Stations
In a traditional station rotation lesson, students physically move from one station to the next. However, this fall there will likely be new limitations on student movement in classrooms. Instead of designing a lesson where students move, they will remain in the same location throughout the class and work through a series of learning activities. The teacher, by contrast, will move to each group to facilitate the "teacher-led" station.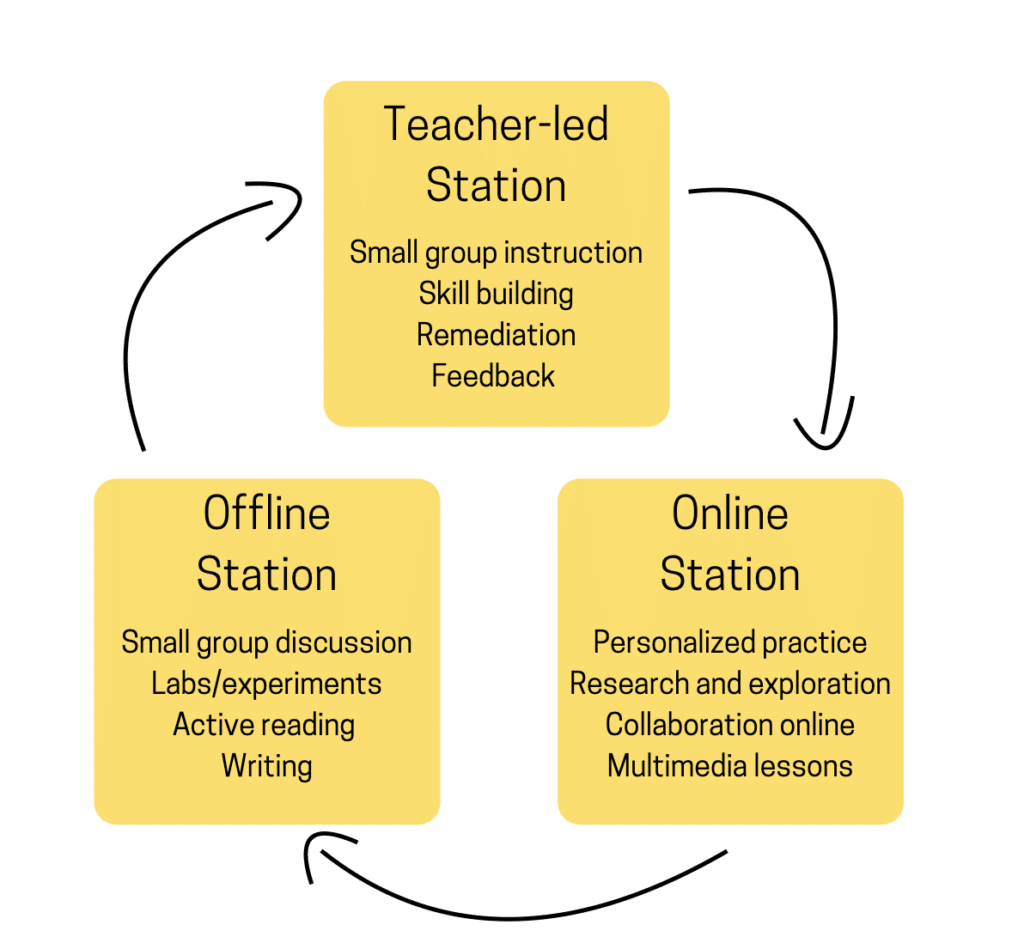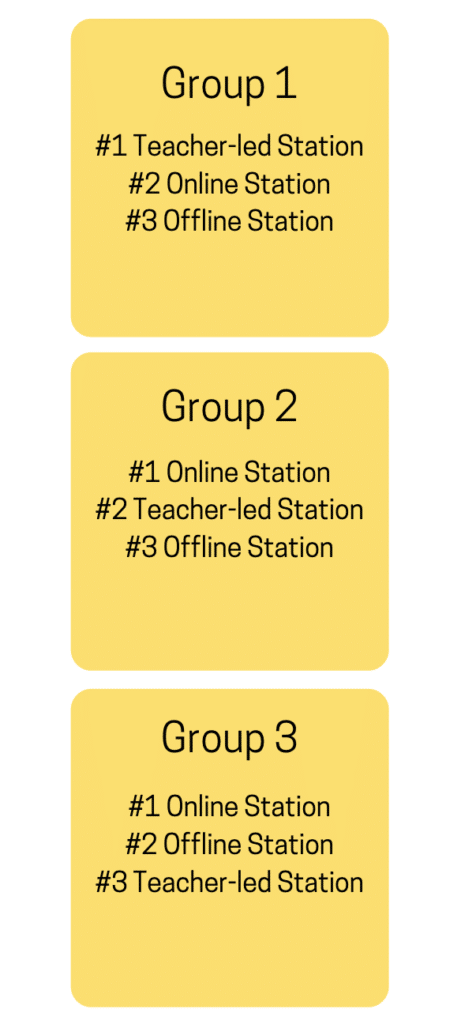 Setting Up Your Classroom for a Station Rotation in the Era of Social Distancing
Students may be asked to wear masks to school and remain six feet apart in classrooms. Although the recommendations have been to limit the number of students in a classroom at one time and place desks in rows, I worry that reverting back to rows may limit student interactions at a time when they are likely craving connection with peers. Students do not need to be physically close to engage in small group discussions or talk while completing collaborative tasks online. If we are limiting the number of students in a classroom, I would love to see teachers think about desk formations that would allow for social distancing without relegating students to rows.

Taking the Station Rotation Online
Teachers who enjoy planning station rotation lessons can use that same design to plan their online learning experiences for students. Teachers can combine online and offline learning activities in a virtual station rotation lesson and assign each group a virtual conferencing time to meet with you online for their "teacher-led station." Below is a lesson template teachers are welcome to copy and use to create their virtual station rotation lessons.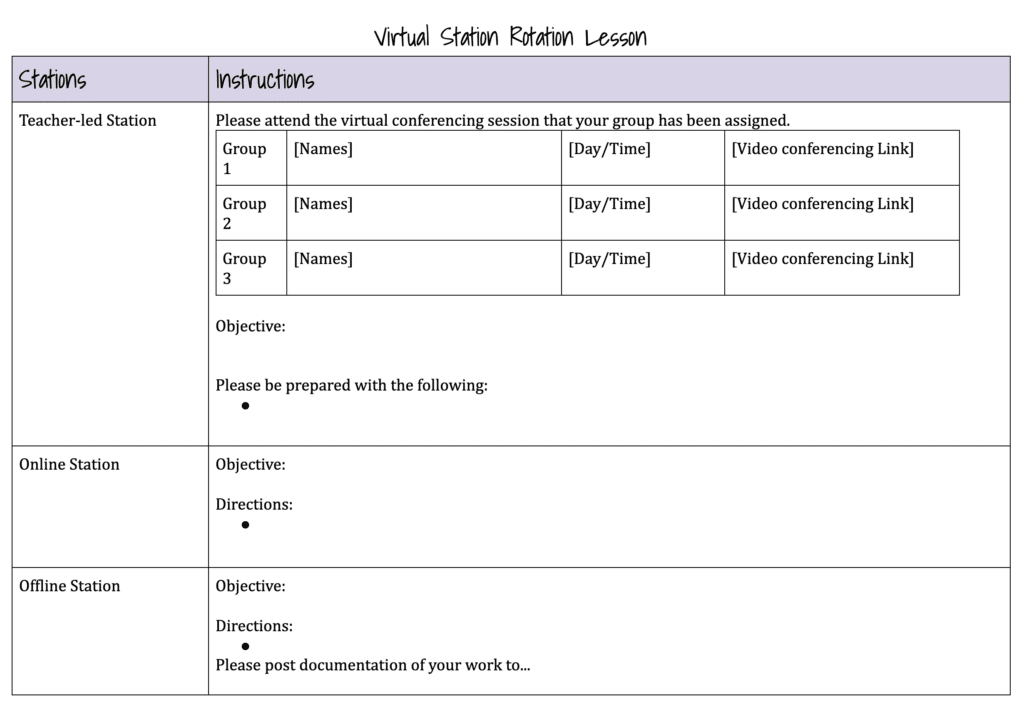 As teachers think about and plan for the next school year, I encourage them to identify the strategies that worked well pre-COVID19. Then think about how they might modify those strategies to work in a socially distant classroom or online. With some modifications, many of the instructional models and learning activities that have become staples in our physical classrooms may be adapted for a socially distant classroom or an online course.
You can complete the contact form to inquire about a hands-on, practice-based (virtual or in-person) workshop for your teachers!
Want to learn more about blended learning and UDL? Check out my online, self-paced courses: Getting Started with Blended Learning, Advancing with Blended Learning, and UDL and Blended Learning.