I've written extensively about the benefits of using the Station Rotation Model with students. English teachers frequently ask me which technology tools I use to design my online learning stations. Below are my 5 favorite technology tools and online resources for designing the online learning stations in my English classroom.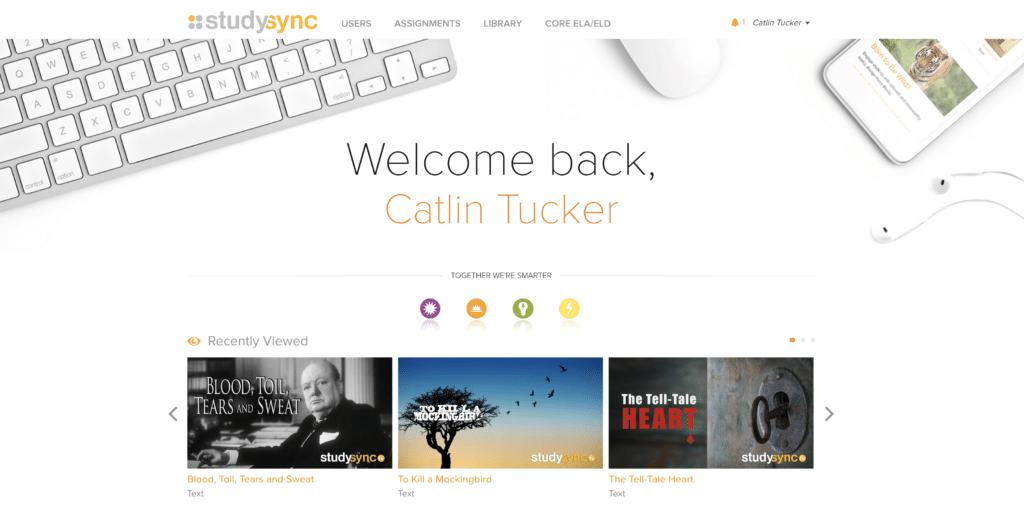 StudySync has freed me from the limitations of our school book room. Now, I have access to hundreds of short stories, poems, excerpts from novels, and famous speeches. The texts are paired with Think Questions and writing prompts that I can use or adapt. Many texts have video previews, SyncTV episodes, and audio recordings of the texts available. I can mix and match individual texts or access entire units complete with ELD supports for students at various language proficiencies. It's also a fantastic resource for pairing groups of students with texts at their Lexile level!
Vocabulary.com uses adaptive software to personalize vocabulary practice for students. Sophisticated algorithms determine which words students have mastered and which words they need to continue to practice. Teachers can create lists of vocabulary words or use the lists already available on the site. There is even a "spelling bee" option that will provide an audio recording of the word and students must spell it correctly. Teachers can track individual student data.
NoRedInk allows students to select from a variety of topics (books, movies, celebrities, sports) and all of their grammar practice is wrapped in those topics. It transforms mundane grammar review into something more interesting because the sentences relate to individual student interests.
#4 In-class Flip with Vocabulary, Writing, and Grammar
For years I have been using the flipped classroom model to flip my vocabulary, writing, and grammar instruction. Instead of marching lockstep through information as a class, I will assign a video for homework and use class time for practice. In the last year, I began building station rotation lessons that incorporate these flipped videos. Students still have an opportunity to control the pace of their learning and work collaboratively with peers to apply the information. (For more on the in-class flip, check out this blog!)
Newsela has a growing collection of articles about science, art, health, war and peace, and money written at four different Lexile levels. This makes it possible for teachers to group students by reading level in a station rotation and differentiate subtly by assigning students in each group the same article written at a different Lexile level. There is a short quiz paired with each article, so teachers can assess the students' ability to comprehend, analyze and evaluate what they've read.
All 5 of these resources are worth checking out for any school looking to incorporate meaningful technology into its English classrooms.