"When I engage in dialogue, I recognize that those I speak with are equal to me, and I work from the assumption that they hold within them wisdom, knowledge, ideas, and gifts." That line from Jim Knight's book Unmistakable Impact highlights the power of dialogue as a vehicle to learn from the people around us.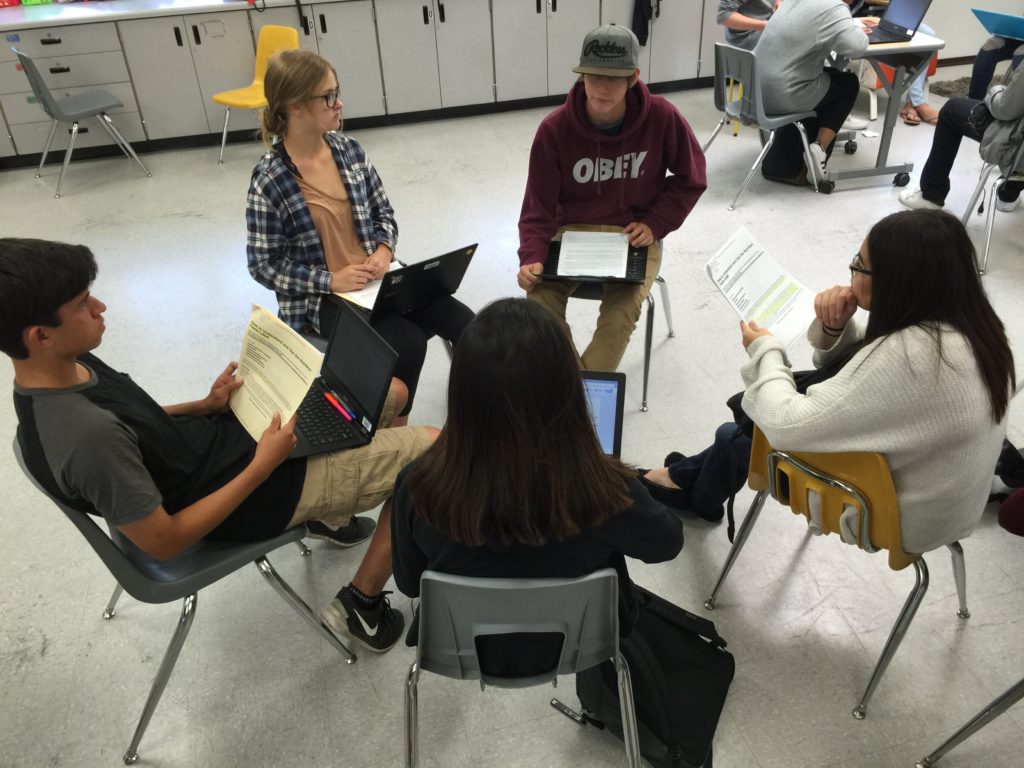 The value of discussions can hardly be overstated. They allow students to:
Articulate their ideas
Ask questions
Learn from different perspectives
Make connections
Think critically about new information and ideas
Receive validation from their peers
The act of telling or explaining what they know cements students' understanding of concepts. Conversely, struggling students benefit from hearing their peers' ideas, opinions, and explanations. Even the opportunity to ask questions can help students to begin to deconstruct challenging ideas or concepts.
I wholeheartedly believe that the potential of the group far exceeds the intellect of any one individual in the classroom–myself included. Despite my passionate belief that discussions are an integral part of the learning process, early in my teaching career I failed at generating successful equitable discussions in class. I asked follow up questions, used "wait time" and employed a variety of other strategies designed to lure students into discussion, but the same five kids dominated discussions and everyone else remained silent.
There are a variety of impediments to real-time discussions that result in excluding a majority of students from participating. This lack of equity in real-time discussions creates an imbalance that can be corrected when discussions take place asynchronously online. This asynchronous environment provides something in-class discussion can't: time.
For the last three years, I've used Schoology's robust discussion functionality to facilitate online discussions to complement our in-class conversations. This online space gives every single student the opportunity to engage in our class dialogue.
Most students need time to process information before responding to a question. Yet in traditional classrooms, time is a luxury most teachers do not have. In her article "Effective Classroom Discussions," Selma Wasserman describes the common teacher experience: "So much to be done! So little time! The pressure on teachers to get everything done by the end of the school day is formidable. That race with the clock often forces teachers to speed up lessons and makes them lose patience with students who need more time to say what's on their minds."
Wassermann identifies a key conflict in the classroom: the race against the clock to cover curriculum versus the desire to give students a voice in class discussions. She accurately depicts the frustration many teachers face when attempting to incorporate dynamic discussions into their classrooms.
When teachers introduce an online avenue where students are able to express their thoughts outside the time crunch of a normal school day, all students can have a voice in the class. This equity of voice fosters relationship building, increases participation and encourages deeper engagement.
For those teachers who are frustrated with the quality of in-class discussions, I'd encourage you to explore how blending asynchronous online discussions with small group in-class conversations can lead to more powerful students interactions and deeper learning.
My first book, Blended Learning in Grades 4-12, provides concrete resources for creating a safe space online, building an online community, designing dynamic discussion questions, and supporting students in saying something substantial online.