As a student, I remember the stress of preparing for final exams. I spent hours reviewing notes that spanned an entire semester because it was all "fair game." I never had a clear sense of what content would appear on the final. Sometimes I didn't even know what the format of the final exam would be…essay, multiple choice, or short answer.
In a coaching session last month, I had a teacher ask me how to create a final exam that complements a standards-based approach to assessing students. My suggestion was to create a personalized final exam. At first, this may sound like a big undertaking, but it has the potential to ease our students' anxiety and make the teacher's last week of school more manageable.
Instead of creating a monster final exam that attempts to cover every standard or aspect of the curriculum, I'd love to see teachers make time to conference with students, identify the target skills/standards they want to show development in relation to, and then the teacher provides them with a final exam that focuses on those specific skills.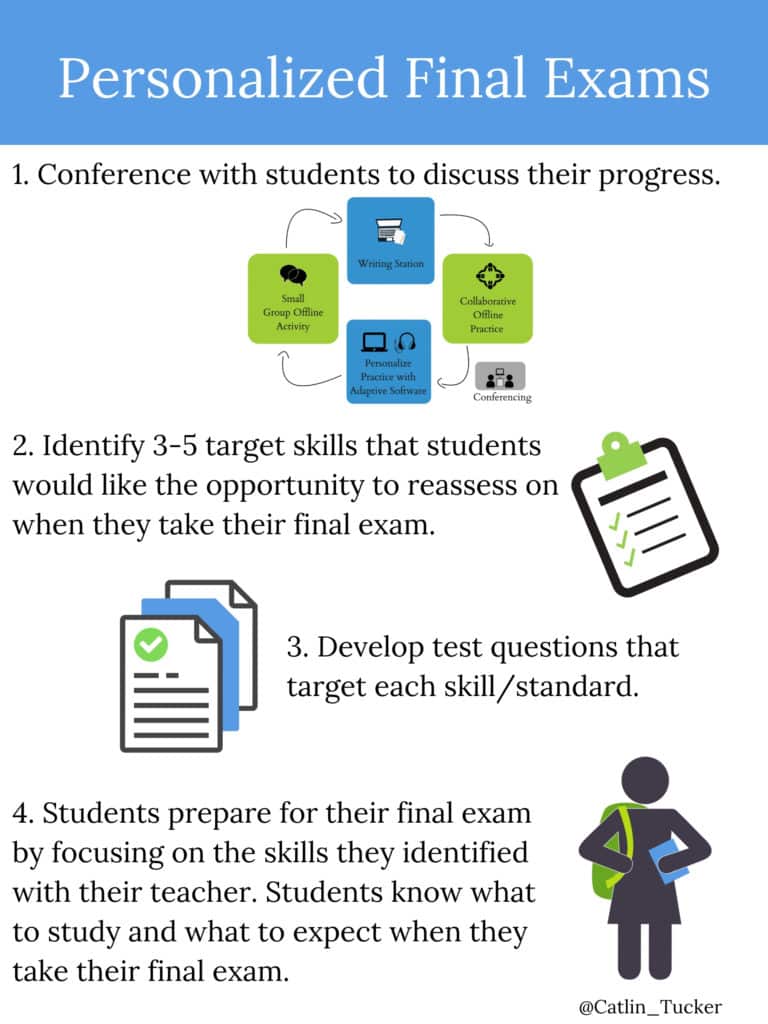 The beauty of a personalized final exam is that it gives students a degree of agency over a situation where they classically have no voice or choice. Students meet with their teacher in advance of finals week to decide which skills they want to focus on and have the teacher reassess. As soon as teachers give students agency, it creates a powerful incentive for them to want to prepare for their final exam. Students no longer feel powerless. They know what to focus on as they study. Since the teacher is dedicating time to meet with students to identify the skills they want to target, students also have an opportunity to ask for help.
If teachers are only assessing a handful of skills for each student, we can limit the time it takes for kids to complete their final exam. This has the benefit of eliminating the anxiety students feel about finishing the exam in the time allotted. It also saves teachers time because they do not have to grade every question they develop for every child.
This personalized approach to final exams does require that teachers anchor their test questions and tasks in specific skills/standards so that students are answering questions that target the skills they've identified in their conversation with the teacher. This approach reflects two ideas that drive a lot of my work with students and teachers: 1. less is more and 2. a one size approach to any part of education is not equitable.