Need support preparing for fall? Check out my self-paced online course Prepare for Fall 2020: Blended & Online Learning.
As teachers embrace their new roles as designers, instructors, and facilitators of online learning, many are grappling the details associated with teaching remotely. It can be daunting to think about how to present information online, when and where to post assignments, how much to assign, and when to expect that work to be completed. Below are five lessons I learned as an online professor that helped me to adapt to and navigate the challenge of teaching online.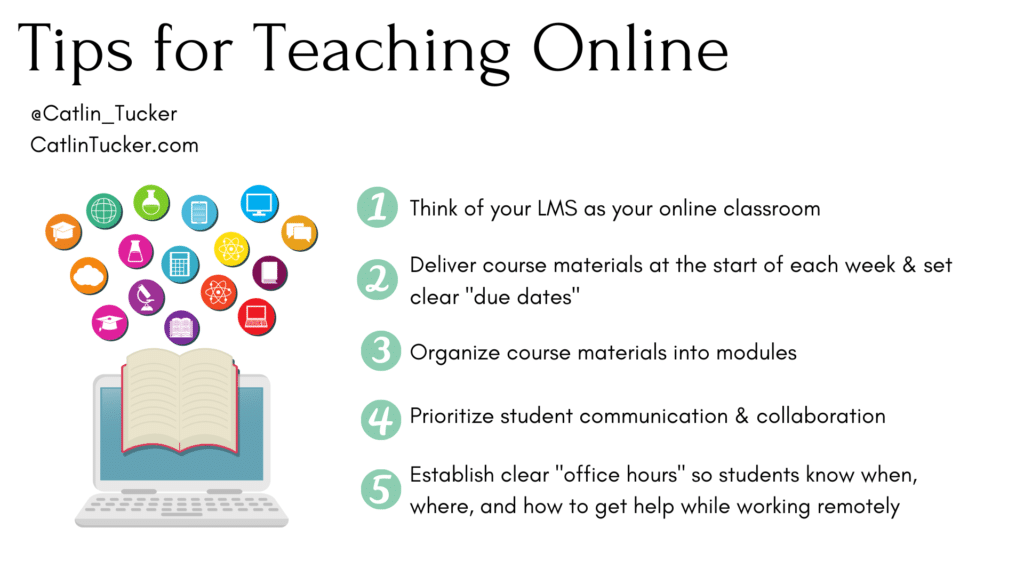 #1 Think of Your LMS as Your Online Classroom
When learning moves online, teachers have to think about their Google Classroom or the Learning Management System as their virtual classroom. The LMS becomes the space where we engage students in learning. It is not merely a vehicle to disseminate resources or collect assignments. Just as the physical classroom is not simply used to give students information or collect their work. Instead, your LMS is where students will engage with the course content, with each other, and with you, their teacher.
Teachers must use this online learning environment in dynamic ways to recreate the experiences learners are used to having in our brick and mortar classrooms. If you regularly engage students in discussions about the reading, videos, or current events, leverage your LMS's functionality to create that experience online. If you value having students work collaboratively on shared tasks, you can recreate that experience online using a collaborative suite, like Google or Microsoft, in conjunction with your LMS.
#2 Deliver Course Materials at the Start of Each Week & Set Clear Due Dates
I recommend that teachers get a week ahead of their students in terms of the design and delivery of course materials. I know that is a big ask when most teachers had little, to no, warning that their schools were closing. However, in the world of online learning, students typically have access to an entire week's worth of content at the beginning of the week. Teachers post everything students need for the week on Sunday then students have control over the time, place, and pace of their learning.
Posting work for the entire week allows learners to benefit from the flexibility that online learning affords. This is critical in our current situation because families are negotiating shared spaces, devices, and bandwidth. We cannot assume that students will have a consistent schedule that guides their work at home. They may be helping to care for younger siblings while parents are working remotely during the day. They must have a clear sense of what they need to do each week then decide how and when to tackle those tasks.
#3 Organize Course Materials into Modules
As teachers move work online, it is helpful to think more modularly about learning. Instead of assigning a complete lesson that may have many parts, I suggest breaking up the parts of the lesson into discrete tasks. For example, a single lesson in a classroom may be composed of direct instruction, a class discussion, and individual practice. In an online course, each of those things becomes a separate learning activity.
Offline Lesson
Online Lesson
Direct instruction
Students watch a flipped video
in Edpuzzle and answer questions
about the content of the video
Class
discussion
Students engage in an asynchronous
text-based online discussion where they
answer discussion questions and reply to
their peers' posts
Individual practice
Students complete review activities on
digital documents, use an adaptive
software program to practice, or complete
an assigned review activity with an online program, like Quizizz or Kahoot!
If teachers consider the time required to complete these activities in a classroom versus the time needed to engage in these activities online, it's clear that these activities will necessitate significantly more time to complete online. For example, in a real-time class discussion, students share what comes to mind at the moment and only a fraction of the class will likely participate. By contrast, when students engage in an asynchronous online discussion, they usually have to read or watch something prior to posting their response, they have to think critically about the questions posed, and they have to craft a cogent written response. Once they've done all of that, they are usually required to read and reply to a few of their peers' responses. This is a heavy cognitive lift that takes time.
Teachers must be sensitive to the demands that online assignments place on learners. If teachers break up the learning into smaller modules and discrete activities, it is easier to consider how much time it will take for a student to complete specific tasks. That can help us to avoid overburdening students and keep our expectations realistic as students learn remotely.
#4 Prioritize Student Communication & Collaboration
Learning remotely can be an isolating experience for students who are used to seeing their classmates every day. I encourage teachers to prioritize student communication, collaboration, and interaction when they design their online lessons. Instead of simply disseminating resources and assignments and collecting student work, consider the following questions:
How can I use the online space to connect learners?
How can I leverage tools, like online discussions and video conferencing software, to allow learners to engage with each other?
How can I utilize the collaborative nature of the Google Suite or Microsoft OneNote to get groups of students working on shared tasks together?
How can I make time to meet with my students to work with them virtually?
The more opportunities students have to communicate and collaborate with their peers online, the more likely they are to stay engaged in the learning happening online.
#5 Establish Clear "Office Hours"
Finally, students must know when and where they can go to get help while learning remotely. I suggest teachers use Google Meet or Zoom to host "drop-in office hours" a couple of times each week. F0r daily questions, students can email questions, post them to the Google Classroom stream, or send a direct message via their LMS.
I always encouraged my students to send their questions using Remind, the text message app. That way, I did not have to respond to a bunch of emails or log in to our LMS every couple of hours to check my inbox. Whichever strategy you use, it is essential to communicate with your students so they how to get support as they work remotely.
If you are an educator with experience teaching online classes, please take a moment to post a comment sharing any tips you think will help teachers who are new to teaching online.