Schools in California will not reopen this year. Teachers are scrambling to move their offline courses online to ensure that students continue learning for the remainder of the school year. Understandably, the focus is on online learning as that is a new and unfamiliar learning landscape for a lot of educators. I am fielding questions about how to set up online courses, design online lessons, and offer small group instruction and support via video conferencing.
As an advocate of blended learning, I want teachers to strive for a healthy balance of online and offline tasks as students engage in distance learning. As a parent of two children, I worry about kids staring at screens for hours at a time. When I designed the homeschool schedule we are using to impose structure on our days, I included a range of offline activities since much of the school work they are doing is online.
If teachers or parents are looking for ways to engage students in offline learning activities at home, below is a choice board I designed. This choice board is composed of activities that encourage students to think critically and creatively, document their learning, reflect on these unconventional learning experiences, and share what they've worked on with their peers.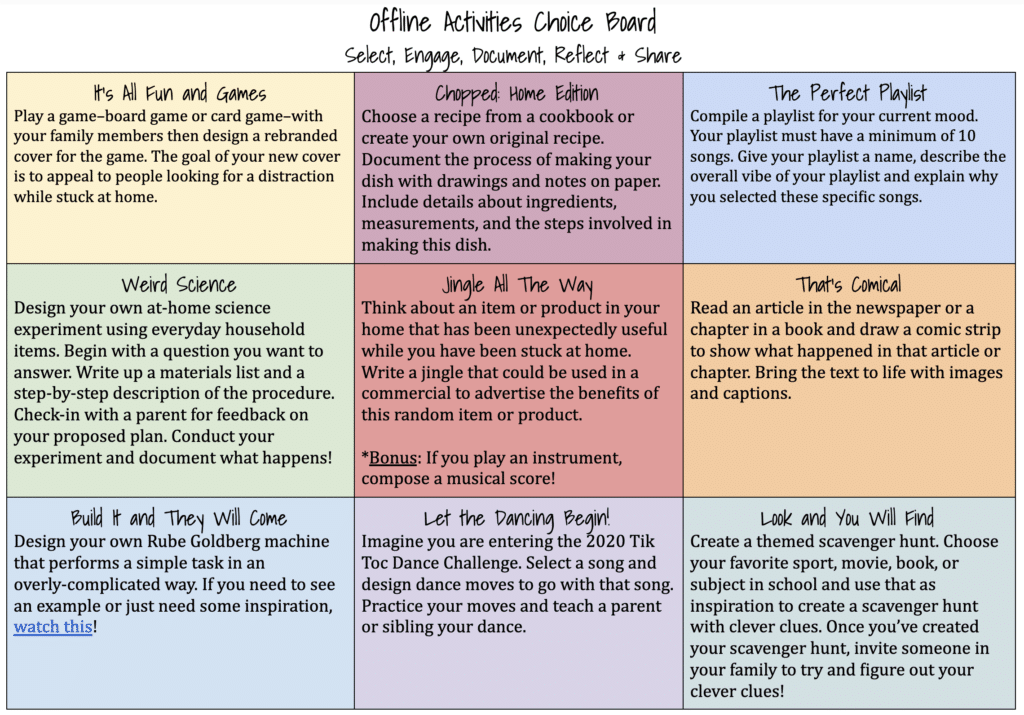 I would recommend that teachers or parents ask students to:
Choose

one

offline task to pursue each week as some of these activities will require a bit of time.
Document their work as they complete the task (take pictures, record videos, sketch images, draw models, and/or take notes).
Reflect on the process of completing this task once they have finished it.

What did they learn? What connections can they make between what they did at home and what they have learned in school?
What was challenging about completing this task? How did they work through moments of confusion or frustration?
What did they enjoy most about completing this task?
What advice would they give a classmate who is considering doing this activity?

Post the documentation of their work with their reflection online where their peers can see it. Teachers can ask students to share their work in the stream in Google Classroom, in a shared Google Slide deck, on a Padlet Wall, or by recording a FlipGrid video reflection.
If you want to create an original offline choice board to use with your students, make a copy of the template below and come up with your own activities.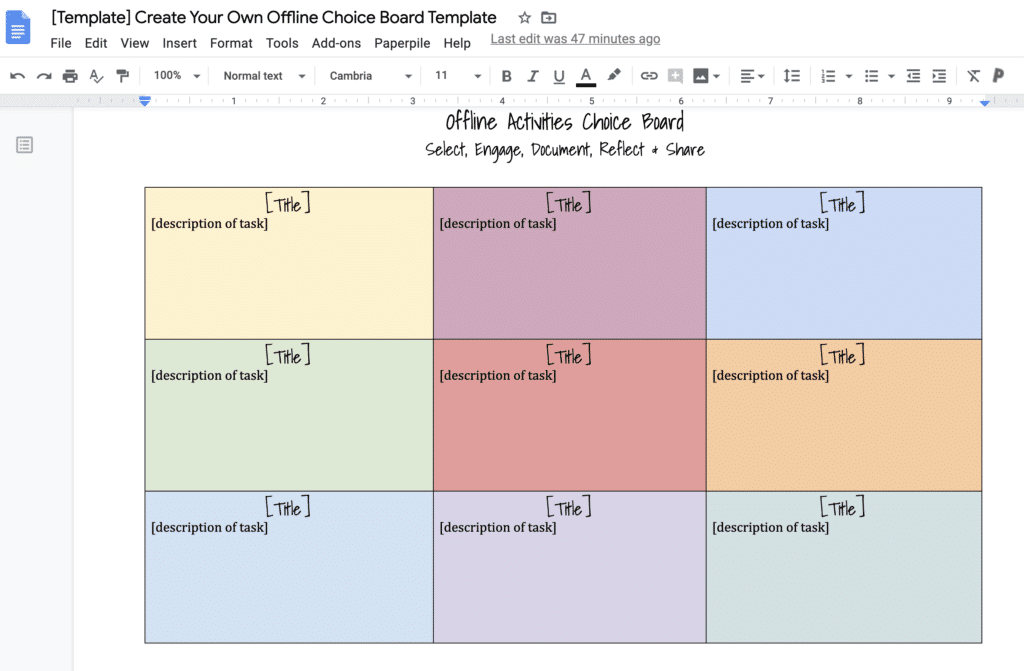 If you have fun offline learning activities you plan to use to engage your students or your children, please take a moment and post them to this blog so we can generate a list of great ideas!
As we enter this new era of school closures and distance learning, educators may be looking for professional learning books to help them prepare for engaging students both online and offline. Here are a list of books I've written on blended learning for anyone looking to get a jump on the next school year!