One of the primary roles that a teacher plays in an online class is the facilitation of learning. Facilitation is the teacher's ability to clearly communicate learning objectives and support learners as they make progress toward those objectives. When teachers are working with students online, their role as facilitator encompasses their interactions with students in conferences, the feedback they give students on their work, and their ability to assist students in making meaning in online discussions, both synchronous and asynchronous.
This last component–facilitating online discussions–can be especially challenging for teachers who are not used to engaging students remotely. However, video conferencing platforms, like Google Meet and Zoom, are making it possible for teachers to connect with learners in real-time. This presents myriad opportunities to engage students in active learning online. Given the critical role that discussion plays in meaning-making, many teachers are experimenting with using their video conferencing sessions to engage students in conversations about texts, videos, podcasts, and online resources. 
Just like real-time discussions that can fall flat or be dominated by a handful of voices, synchronous online discussions using video conferencing software presents unique challenges for teachers. Students may feel self-conscious about jumping into a conversation online for a variety of reasons. Below are seven suggestions to help teachers maximize student engagement in synchronous online discussions.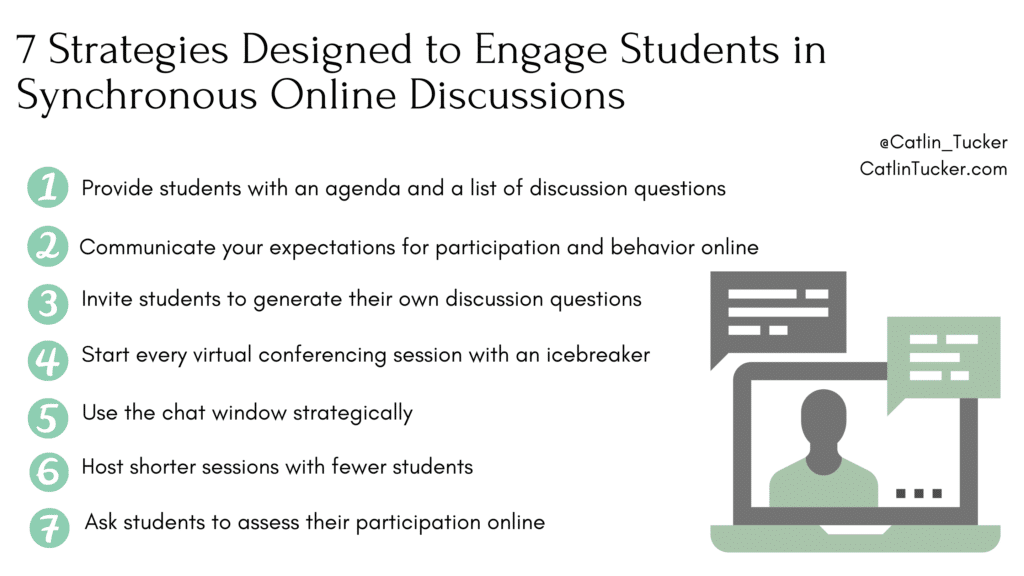 1. Provide students with an agenda and a list of discussion questions ahead of time.
Students will feel more comfortable if they know what to expect from a virtual conferencing session. If teachers provide the discussion questions ahead of time, students who need more time to process the questions have time to do so. Similarly, students who may be shy or more hesitant to engage in real-time conversation can prepare some "talking points" in advance of the synchronous session, so they feel comfortable engaging.
2. Communicate your expectations for participation and behavior online.
Learning online is new for many students. Teachers need to be clear about their expectations, and proactively teach students how to engage in this new learning landscape. For example, you should explicitly tell them if you want them to leave their video on for discussions and explain why it is vital for the class community to be able to see each other's faces. If you want them to contribute at least one idea to the discussion, you need to tell them in advance of the conversation what you expect.
TIP: I encourage teachers to include the expectations for behavior and participation in the agenda or planning document that they share with students in advance of the conversation. 
3. Ask students to generate their own discussion questions.
Ask students to come to the virtual discussion with at least one question they would like to discuss. This encourages them to think about the topic the group will be discussing in advance of the conversation and identify some aspect of the topic that interests them. When students can steer the conversation with questions they care about, they are more likely to engage in discussion.
4. Start every virtual conferencing session with an icebreaker question or a quick check-in.
Instead of jumping right into academic work, teachers should begin video conferencing sessions with a fun, informal question that helps students to feel more comfortable. Students who are learning remotely are likely missing the social interactions associated with being in school. Giving students a chance to connect on a social level with their peers before jumping into an academic conversation can help them feel more comfortable sharing their ideas with the group.
5. Use the chat window strategically. 
Just like in a classroom, students need a moment to process a question and formulate their responses. I encourage teachers to share their screens and project each discussion question so that students can both see and hear it. Then ask students to take 60-90 seconds to share their initial thoughts via the chat feature or using a tool like Mentimeter. Once students have had the opportunity to share their thoughts in the chat window, invite them to raise a virtual hand to expand on their response. Individually, unmute students to allow them to share their ideas without interruption. 
6. Host shorter sessions with fewer students.
Teachers may prefer to offer one long synchronous session each week for their class; however, large group discussions are rarely as dynamic or equitable as small group discussions. Teachers will have more success offering three 20 minute discussion sessions with eight to ten students each, compared to one 60 minute session with 25-30 students. This creates opportunities for the teacher to group students strategically to ensure students are more likely to engage in conversation. 
7. Ask students to assess their participation online.
End your video conferencing session by asking students to take a moment to assess and reflect on their participation online. Self-assessment is an important strategy that encourages students to think critically about their skills. Teachers who make a habit of ending discussions with a quick self-assessment and reflection activity are more likely to see students take these sessions seriously. Online discussion is a critical part of online learning, and as such, students need to develop the skills necessary to engage in this space.
As with any skill, learning to engage in discussions using a video conferencing tool will take time and practice. Teachers are more likely to experience success if they provide students with support, scaffolding, and feedback.