Teachers juggling the concurrent classroom with some students physically attending class and others joining remotely via video conferencing are trying to balance the demands of teaching in two learning landscapes simultaneously. In a previous post, I described how blended learning models could make this challenging teaching assignment more manageable; however, that post assumes that teachers are familiar with blended learning.
In a coaching session last week, it became clear that teachers could use basic templates to help them conceptualize how to take strategies they have used in the past to create lessons that will work in a concurrent classroom (or in an online learning scenario). I am writing this post for teachers who may not have experience with blended learning models but need support designing lessons for the concurrent classroom.
The lesson template below has five sections. Each section has a different purpose and can be modified as needed given the length of a class.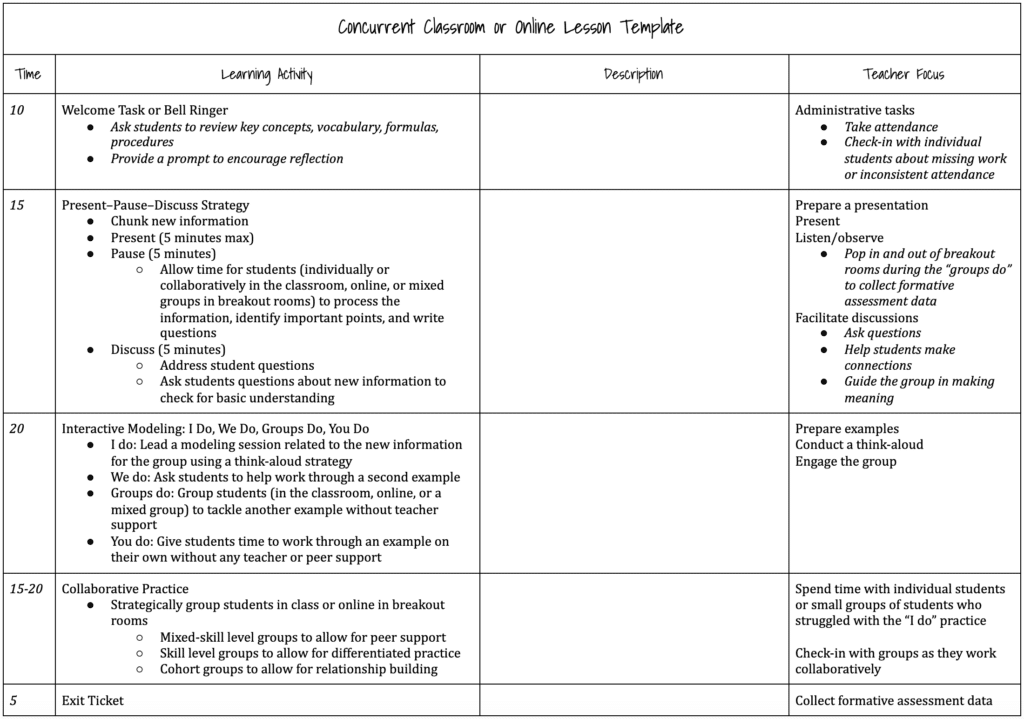 Welcome Task or Bell Ringer
Begin class with a review activity, writing prompt, feedback form, quick quiz, or formative assessment. A daily review helps students to master concepts and skills by shifting that information or those skills from controlled processing to automatic processing. That way, students can dedicate their cognitive resources to other activities or tasks. A welcome routine also quickly transitions students into an activity and frees the teacher to handle administrative tasks (e.g., admitting students into a video conferencing session and taking attendance).
Present-Pause-Discuss
This is where "less is more" is critical. At this moment, when teachers and students are struggling to adjust to a new normal created by hybrid schedules, online learning, and the demands of the concurrent classroom, the message they need to hear is "less is more." When I say "less," I am not suggesting that students learn less—quite the opposite. By covering less, teachers are freed to spend more time supporting students in understanding, practicing, and contextualizing new information.
When teachers feel pressure to cover the curriculum or keep up with a pre-pandemic pacing guide, it is easy to understand why they spend more time introducing information and less time supporting students as they attempt to master content knowledge or skills. Instead, teachers should be encouraged to chunk new information into smaller units and invest significant time in modeling sessions, connecting new information to existing knowledge, and guiding practice. The students' working memory can only process a small amount of information at a time, so it is more effective to keep the presentation of new information focused.
A present–pause–discuss format allows the teacher to focus on introducing one concept or skill at a time. Following the presentation, students–individually or collaboratively–spend time processing that information. Teachers can encourage individuals or collaborative groups to use a 3-2-1 format pictured below to make sense of what they heard during the presentation.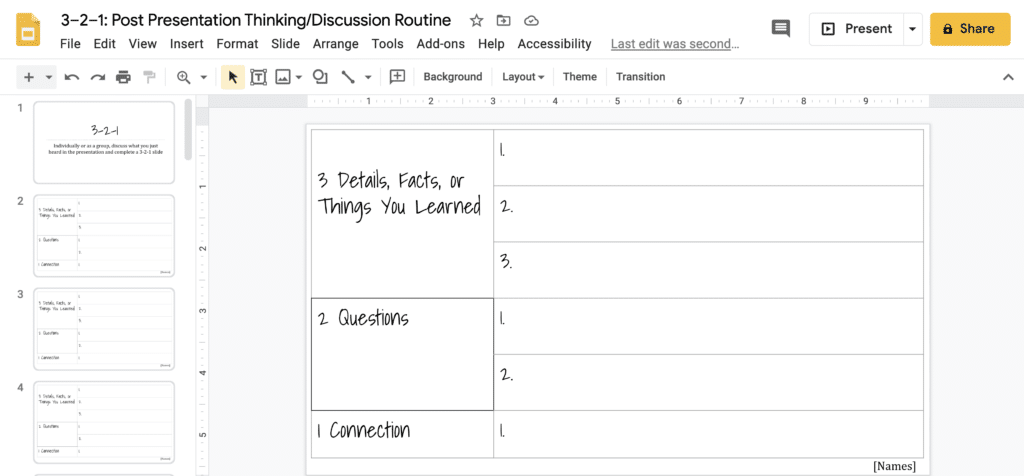 The final step is to pull the class back together for an informal discussion guided by the questions students asked about the information presented.
I do, We do, Groups Do, You Do: Interactive Modeling Session
A modeling session, or think-aloud, provides students with cognitive support in the early stages of learning and helps them develop the confidence needed to continue working independently. When I coach teachers, I encourage them to gradually release the responsibility of practice over to the students by following the "we do" activity as a group with a "groups do" task. The "groups do" allows students to work collaboratively in small groups (in-class, online, or mixed group composed of in-person and online students) to practice a strategy or skill without the teacher's guidance or support.
As groups work collaboratively on the "groups do" task, the teacher can collect formative assessment data by listening and observing. They may walk around a physical space or visit individual breakout rooms to gather informal data. After students have time to work in small groups, the teacher pulls the class back together to debrief. Teachers can use the debrief to clarify key concepts, review another example, or provide additional scaffolds. Alternatively, teachers can identify specific students who need extra support and pull them into a teacher-led session while the rest of the class moves into the "you do" activity.
Collaborative Practice
Students often struggle when asked to practice new skills and apply new information. I encourage teachers to group students strategically and allow them to work collaboratively to practice and apply. Teachers in a concurrent classroom may want to consider the following grouping strategies.
| | |
| --- | --- |
| Mixed Skill Level Groups | Creating groups composed of mixed skill levels ensures that students who need more support have access to classmates who can answer questions or provide clarification |
| Skill Level Groups | Grouping students by skill level may make it easier for teachers to differentiate practice activities and provide additional scaffolds for specific groups |
| Cohort Groups | Forming cohort groups that work together over time (e.g., a unit of study or grading period) can help students form relationships with classmates and feel more connected to a learning community |
Teachers in a concurrent classroom can have in-class groups, online groups, or a mix of in-class and online students in groups. To create mixed groups of students–some of whom are in the classroom and others who are online–every student would need access to a device and each group would need access to a virtual room where they can engage in conversation and collaborate.
Given the current restrictions on movement in classrooms, grouping students online in video conferencing rooms may be the easiest way to foster collaboration for all students, even those who are in the physical classroom. If teachers are going to create groups composed of students in class and online, it is critical to incorporate offline learning activities into the lesson to give students a "break from the screen."
Exit Ticket
Exit tickets are a quick and sustainable strategy for encouraging students to reflect on their learning and provide feedback about the learning experience. Teachers can include some questions designed to check for understanding to gauge the effectiveness of the lesson and identify students who need additional instruction and support.
Create an Interactive Agenda for This Lesson with Google Slides
I've created the slide deck below that corresponds to the five parts of the lesson described above. Teachers can use the slide deck to create an interactive agenda they can use to guide the class through this lesson. I hope these templates save teachers time as they prepare lessons for their concurrent classrooms.
Though I framed this blog post with a focus on the concurrent classroom, this lesson template could be used to design a whole group rotation in a physical classroom or an entirely online lesson.
Teaching is a challenging profession on the best of days. I think we can all agree that this is NOT the best of days (or years, for that matter). For any teacher reading this post looking for strategies and support, I want to thank you for doing this job. You matter. You are appreciated (even if it doesn't always feel that way). Your work is important. Your students are lucky to have you in their lives.
If there are strategies, resources, additional templates, routines, or tips that you want to learn more about, let me know. I have a running list of blog topics, but I am always open to suggestions if there are topics you would like me to prioritize. Feel free to post a comment and ask!