I've been a fan of the station rotation model for years. As I support teachers struggling to navigate the demands of the concurrent classroom, I find myself continually returning to the station rotation model as a strategy to design and facilitate learning for this challenging teaching assignment.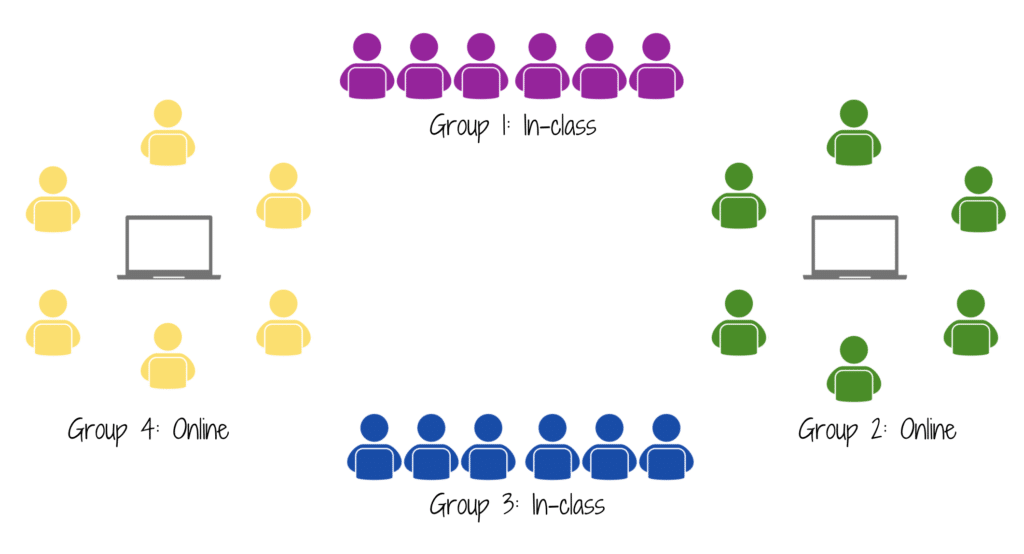 First, I want to identify a few of the challenges I observe in concurrent classrooms.
1. There is an inequality of teacher attention.
This inequality of attention is not a teacher shortcoming but rather a natural product of having a group of students in the physical classroom with the teacher while other students attend class online. If students who attend class in person can raise a hand or verbally request help, they will always command more of the teacher's attention.
I recommend that teachers use a single strategy for all students to use to ask questions or seek additional support. Remind or ClassroomQ can help teachers by providing all students with the same method for requesting support. Students can send messages via their device using Remind or add themselves to a virtual queue with ClassroomQ.
2. Whole group direct instruction is ineffective.
The challenges associated with whole group instruction are not new, but our current situation has exacerbated them. If the teacher is presenting information the same way for all students, that presentation would be more effective in a video. Video instruction puts students in control over the pace at which they progress through the new information. They pause a video, rewind it, or rewatch as many times as they need to understand the information.
Live instruction–in class or online–should be differentiated for small groups of students. During small group differentiated instruction, teachers can connect with learners and use their expertise to figure out what type of explanation or level of support a group of students need to understand a key concept or master a specific skill.
3. The affordances of each learning landscape–in person and online–are not being leveraged.
There are advantages to learning in a classroom synchronously and advantages to learning online asynchronously. However, if students learning online are trapped in virtually conferencing sessions for most of their school day or required to join a physical class virtually and follow along with what is happening there, they have lost the flexibility and agency over time, place, and pace that makes online learning effective. Similarly, if students in the physical classroom spend most of their day listening to a teacher present information or working silently at their desks, they do not enjoy the human interaction that makes in-person learning so appealing.
There are myriad other challenges that I could dive into, but let's get to problem-solving. If these are challenges facing teachers working with students in a concurrent classroom, what can we do to mitigate these challenges?
This where I see the station rotation model being particularly useful for all grade levels. The station rotation is a blended learning model that is composed of a series of stations, or learning activities, that students rotate through. In our current COVID reality, the "rotation" is not a physical shift to a different part of the classroom but a transition from one learning activity to the next.
Let's imagine how a series of station rotation lessons might unfold in a concurrent classroom over the course of a week. Planning will be easier if teachers identify the learning objectives for a given week. What is it that they want students to understand (e.g., the scientific method) or be able to do (e.g., construct a clear claim)? Then, they can decide how to allocate their time and energy to support progress toward those learning objectives.
Teachers have many roles and responsibilities in a classroom, so it is important to dedicate time to those various roles instead of getting stuck in thier role as "expert" at the front of the room. That may mean they don't cover as much ground in terms of curriculum or volume of information, but it creates space for them to spend more time facilitating deep and meaningful learning.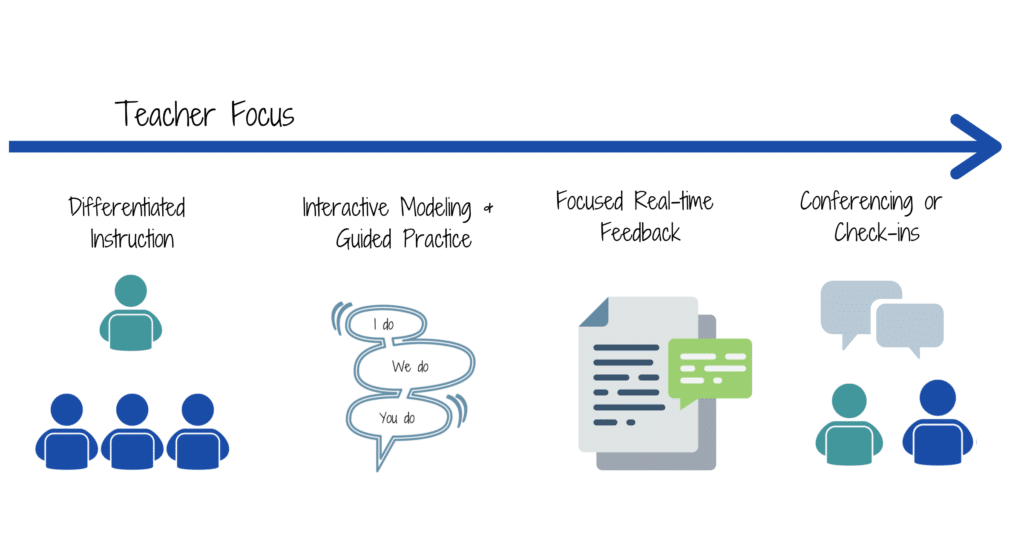 I realize no one example will be an ideal fit for every grade level, subject area, or school schedule, but I wanted to walk through a four-day example of what a series of station rotation lessons might look like. The station rotation model is flexible, so teachers can decide how many groups they have time for in a class period or whether a single rotation will span multiple days.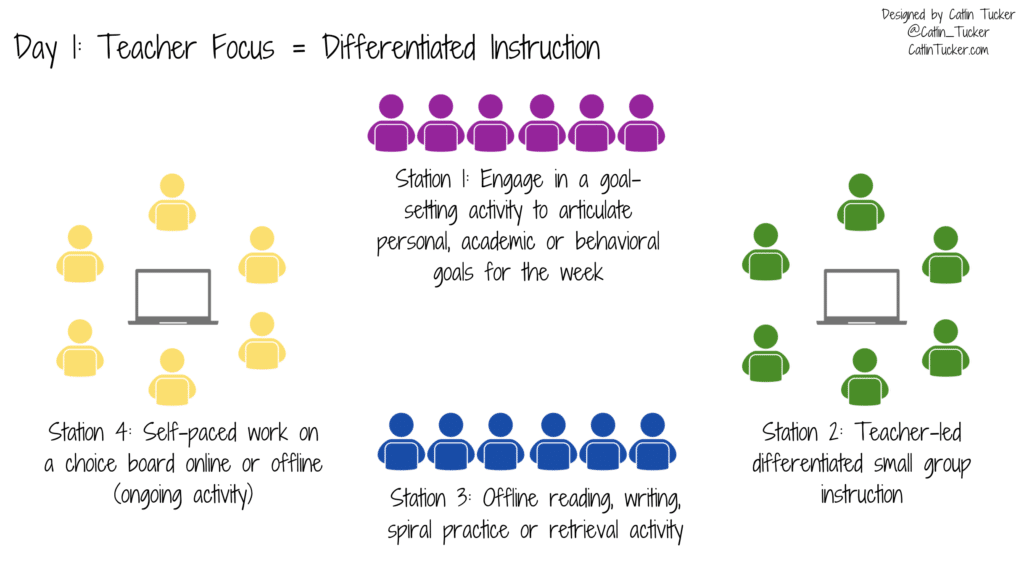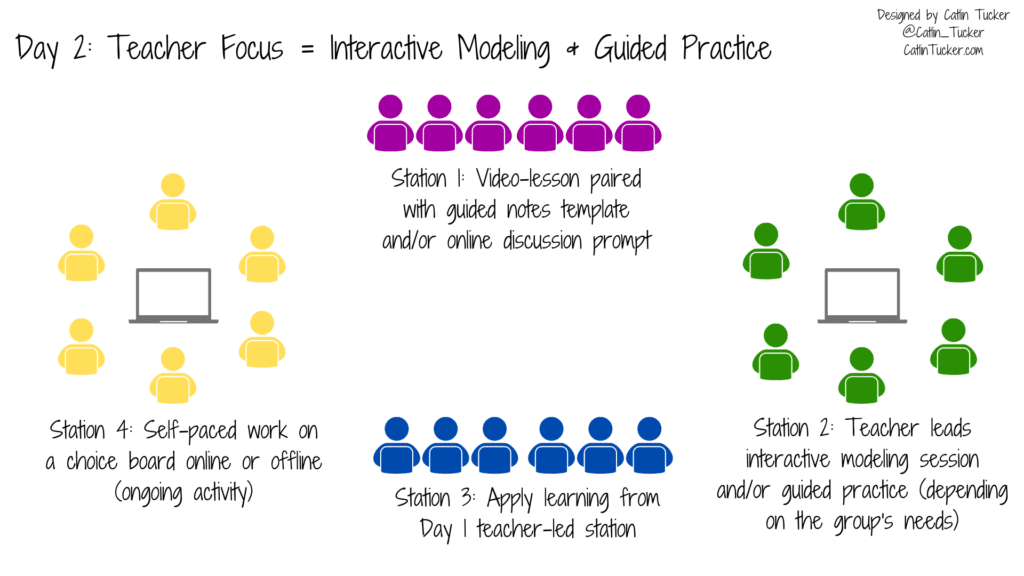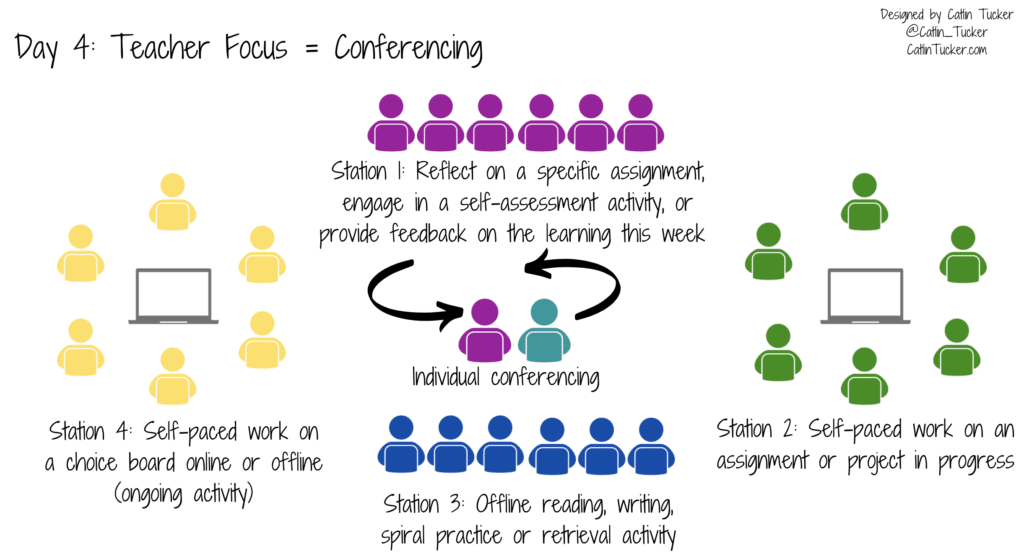 Remember that not all stations or learning activities need to be completed during the actual class period. Some of the stations may be asynchronous allowing students to work at their own pace beyond the physical classroom or class period.
When I work with teams of teachers planning for the concurrent classroom, I emphasize the following benefits of using the station rotation model:
Teachers divide their time and attention more equally between groups of students–in class and online. They can also differentiate instruction, models, scaffolds, and practice for each group of learners.
Teachers can use their teacher-led station for a range of activities–differentiated instruction, real-time feedback, small group discussions, guided application and practice, and conferences with individual students.
Offline station activities can provide a much-needed break from the screen. When I lesson plan with teachers, we strive for a balance between the online and offline stations.
When students are not working directly with the teacher, they enjoy more control over the pace of their learning. Teachers may allow online students to collaborate in breakout rooms on station activities or release students to work asynchronously on learning activities.
When students are working in groups–in person or online in breakout rooms–they (not the teacher) are the focus. They also have a built-in support network of peers with whom they can communicate, collaborate, problem-solve, and create.
The station rotation model is one of many blended learning models that may make designing for and facilitating learning in a concurrent classroom more manageable.