As I reflect on the last year, it's my books that have provided a sense of freedom and adventure while I've been in quarantine and felt socially isolated. My books have transported me through time and space in a year when I have barely left my home. They have introduced me to new people and presented me with new situations. Reading provides a beautiful escape from reality.
Several of the teachers I coach have asked about strategies they can use to engage students during the asynchronous time, so I wanted to share some reading resources I developed.
A Reading Adventure
A reading adventure invites students to select a book they want to read based on their preferences about genre and topic. The slide deck encourages students to think critically about their book to explore the characters and their relationships to one another, the impact that setting has on characters and events, the central ideas or themes emerging in the book, and unfamiliar vocabulary. The work students do asynchronously on the slide deck provides them with choices about how they want to share their thinking and serves as evidence of their asynchronous work.
Reading Strategies Choice Board
Teachers can create choice boards for various purposes, including a skill or strategy board. The beauty of a skill-based or strategy-based choice board is that students can use it repeatedly over time.
For example, I designed the reading strategies choice board below, which can be used any time a student reads a text. They can select the reading strategy they want to focus on and practice as they read and annotate. This choice board gives them the agency to decide which strategy to work on at any given moment.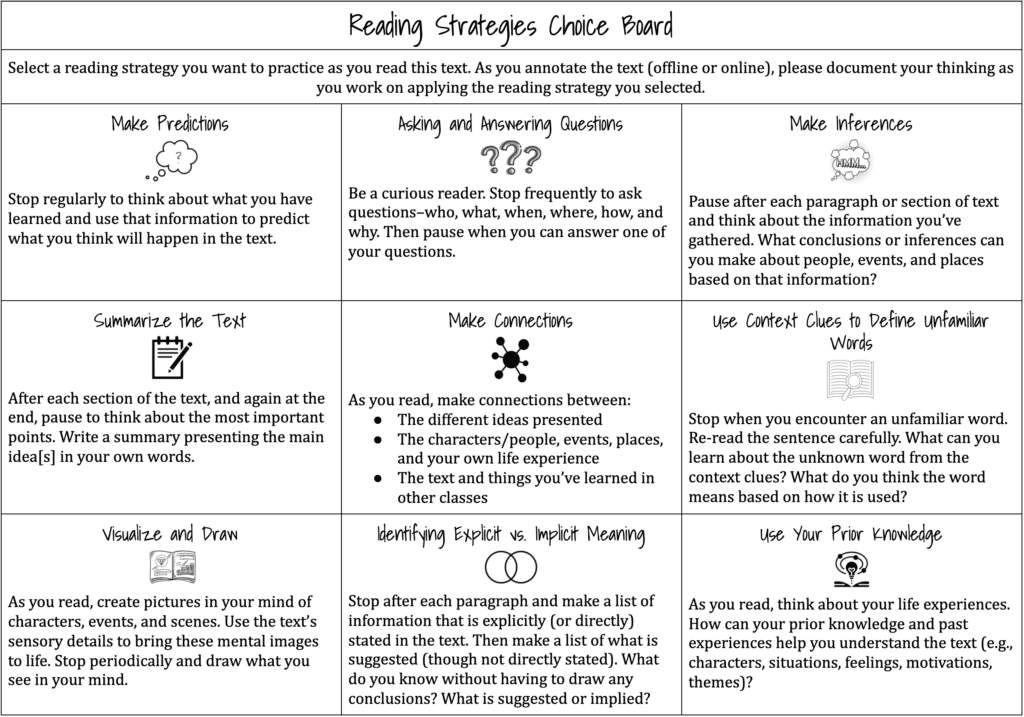 English Language Arts Graphic Organizers
Graphic organizers are another way to get students thinking more deeply about the texts they are reading. Digital graphic organizers make it possible to give students the option to complete their work offline and insert an image of their work or use the features inside of a digital document or slide deck to complete the activity.
Daily Reading Record
If teachers have their students reading for pleasure each day, it is helpful to have a place for students to document and reflect on that reading. The week-long activity below presents students with a daily prompt to encourage them to share something about their reading and a place for them to track how much they read.
If you would like me to send you a copy of these reading resources, complete the form below.