"Students don't do the asynchronous work." "Students don't work unless I am monitoring them." "Students will only do the work if I grade it." I hear statements like this every week. Teachers are frustrated by what they perceive as a lack of focus, engagement, and motivation. I can empathize with their frustration, but I attribute these behaviors to underdeveloped self-regulation skills, especially in online and blended learning environments.
Self-regulation is the "self-directive process by which learners transform their mental abilities into academic skills" and "the self-generated thoughts, feelings, and behaviors that are oriented to attaining goals" (Zimmerman, 2000; 2002). Can students regulate their behaviors, actions, emotions, or thoughts to achieve goals?
Key Process Necessary to Develop Self-regulation Skills
Zimmerman (2002) describes the processes that are key to helping students to develop their self-regulation skills. Below is a visual I created based on Zimmerman's work.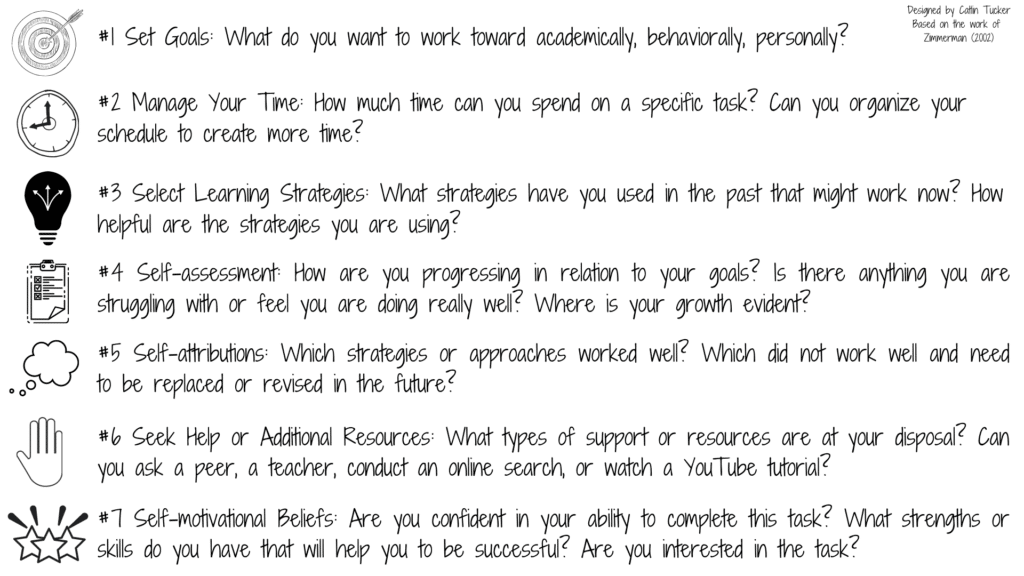 Self-regulation is not a fixed entity. It is not a mental ability or an academic performance skill (Zimmerman, 2002). Students can develop self-regulation skills over time, but they need explicit instruction, supports and scaffolds, and routines in place that support the cultivation of these skills. This skill-building can happen at any grade level. However, students are unlikely to develop these skills in learning environments where they are positioned as passive receivers of information. In classrooms where students are told what to do and how to do each task, they may not have the opportunity to develop the initiative, resourcefulness, and persistence needed to develop their ability to self-regulate (Zimmerman & Moylan, 2009). If students are not given the tools, practice, or space to develop these skills, they may flounder when asked to work independently in-class or online.
Blended Learning Environments Require Self-regulation Skills
Research has indicated that students with stronger self-regulation skills do better in blended learning environments. Conversely, students with less developed self-regulation skills are more likely to struggle in these environments. This makes sense since students in blended and online learning environments enjoy more autonomy and agency over their learning. They have to take an active role in thinking about their goals, managing their time, monitoring their progress, and reflecting on their learning.
When working with teachers and leaders, I define blended learning as active, engaged learning online combined with active, engaged learning offline. My focus is positioning the student as an active agent at the center of learning. The goal of the various blended learning models (e.g., station rotation, whole group rotation, flipped classroom, playlist) is to give students more control over the time, place, pace, and/or path of their learning. This fundamental shift in control from teacher to learner requires learners to develop and hone their self-regulation skills.
Teachers frustrated by a perceived lack of focus, engagement, or motivation should develop routines and resources designed to help students develop these critical self-regulation skills. How can we help students to set regular, short term goals, manage their time, think critically about the strategies they are using and how effectively those strategies are working, access resources and support, and assess their learning?
Supporting Self-regulation in Blended Learning Environments
In a systematic review of the literature on blended learning environments that support self-regulation, Laer and Elen (2017) identified the following seven attributes that support self-regulation in blended learning environments.
Aspects of Blended Learning Environments That Support
Self-Regulation
Explanation of Attributes
Authenticity
Real-world connections and relevance: Are tasks anchored in real-world situations?
Personalization
Tailoring the learning (experiences, environment, tasks) to meet individual student needs
Learner-control
Control over aspects of the learning experience: time, place, pace, and/or path
Scaffolding
Changes in the supports available to students and/or the academic rigor of tasks so they are within the students' scope of ability
Interaction
Active involvement with the content, the teacher, and their peers (e.g., communication, collaboration, feedback)
Cues for reflection
Increased opportunities to think deeply about their work and reflect on their experiences
Cues for calibration
Provide cues to encourage students to define the task, set goals, select strategies, and engage in metacognitive skill building
As school leaders and teachers design for blended learning environments, it is important to consider how these seven attributes are taking shape to aid the development of the students' self-regulation skills, which can improve both academic achievement and motivation.
Although self-regulation won't show up in our standards or on a pacing guide, these skills should be explicitly cultivated in classrooms to help learners develop higher levels of confidence and self-efficacy. The earlier students learn these self-regulation skills, the better. These skills will help students be active agents able to navigate academic tasks and serve them long after they leave our classrooms.
In my book Balance with Blended Learning, I write about specific strategies, resources, and routines teachers can use to help students develop their metacognitive muscles and, in turn, their self-regulation skills.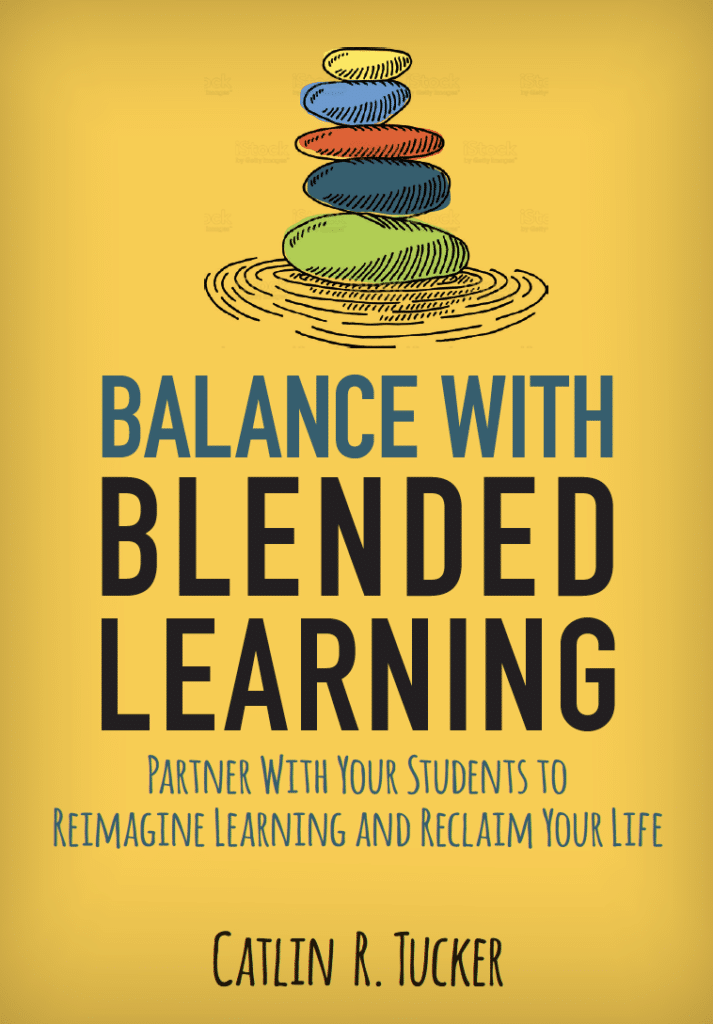 I also designed a self-paced online course titled "Advancing with Blended and Online Learning" that covers metacognitive skill-building and blended learning models for anyone who wants to learn more! District leaders can purchase bulk licenses for their staff to support them in this work!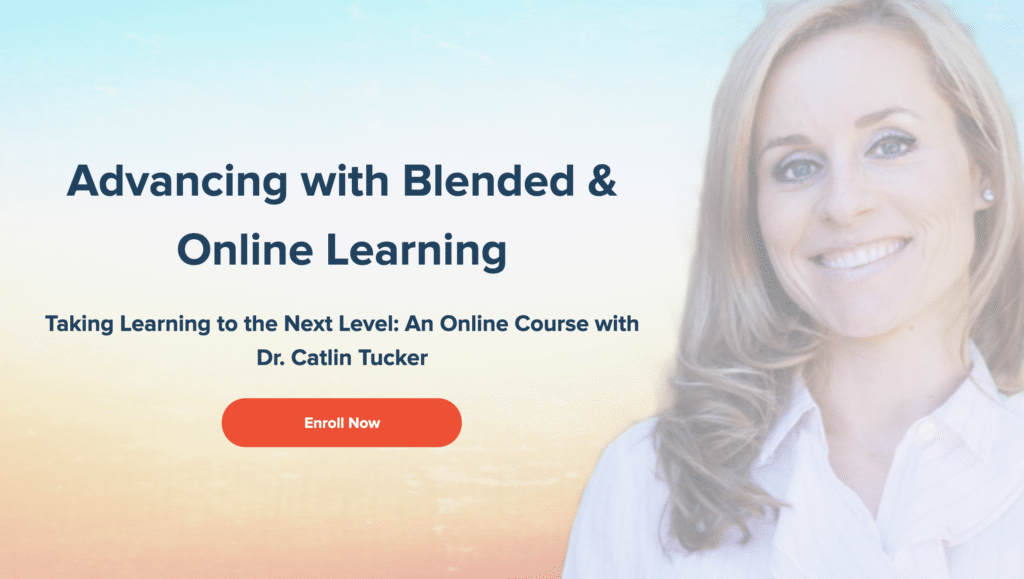 Zimmerman, B. J. (2000). Attainment of self-regulation: A social cognitive perspective. In M. Boekaerts, P. R. Pintrich, & M. Zeidner (Eds.), Handbook of self-regulation (pp. 13-39). San Diego, CA: Academic Press.
Zimmerman, B. J. (2002). Becoming a self-regulated learner: An overview. Theory into Practice, 41(2), 64-70.
Van Laer, S., & Elen, J. (2017). In search of attributes that support self-regulation in blended learning environments. Education and Information Technologies, 22(4), 1395-1454.