When I work with teachers who are new to blended learning, there is often a knee-jerk concern about the time required to design a lesson that strategically blends active, engaged learning online with active, engaged learning offline. It is true that blended learning requires a higher level of intentionality when it comes to design.
I want teachers to think of themselves as architects of learning experiences. Sketching out blueprints that will position the students to do the "building" or the heavy cognitive work of making meaning. It requires less time to design a teacher-centered lesson where we are spending large chunks of time at the front of the room talking, instructing, and modeling. However, when we have little to no time to work directly with students during the lesson (e.g., giving them feedback or facilitating meaningful interactions among students), that translates into more work after the lesson as teachers feel pressure to take stacks of student work home.
Whole Group Rotation Model
If designing a blended lesson feels daunting, it may help to start with the whole group rotation model. This is an updated version of the original lab rotation model, which had students rotating between offline work in a classroom and online work in a computer lab. The growing number of schools that are 1:1 or have carts full of devices in classrooms means that most students do not need to leave the classroom to get online. Instead, teachers can rotate students between online and offline learning with a whole group rotation.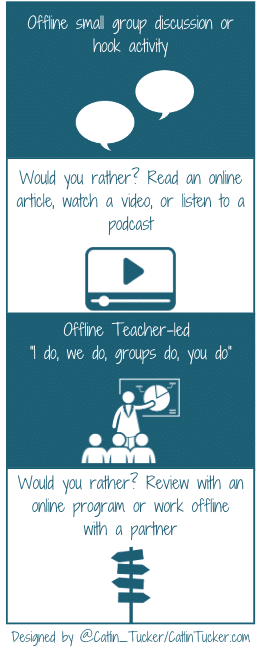 A whole group rotation should be designed with the following questions in mind.
How are we balancing the online with the offline?
How are we encouraging both individual and collaborative work?
When do students enjoy the agency to make key decisions about their learning experience?
How will the instruction, models, practice, or scaffolds be differentiated to ensure all students can be successful?
When will the teacher work directly with students to provide additional support, guidance, or feedback?
As teachers design their whole group rotations, it is important to keep the learning activities varied and build in student choice whenever possible.
Offline Learning Activities
The offline learning time in a whole group rotation should focus on those activities that benefit from human interaction and social learning.

Discussion
Feedback
Small group collaboration
Interactive modeling sessions
Guided practice
Online Learning Activities
By contrast, online work should be used to provide students with agency. That means they choose how they engage with information or complete a task using a range of online tools.

This time can also be used for:
Online research or exploration
Personalized practice with a computer program or adaptive software
Review games
Asynchronous online discussions
Updating a digital notebook or portfolio
Online self-assessment activity
As students work online and have a higher degree of control over the pace of that experience, teachers can pull individuals or small groups of students who need more instruction, modeling, or support. They can also use this time to provide feedback on work-in-progress instead of taking that work home.
Moving Forward with Intentionality
The pandemic presented educators with a steep learning curve. As teachers transition back into classrooms, I encourage them to retain the strategies and technology tools that worked well in the online environment. Moving forward, we should strive to blend the best aspects of face-to-face and online learning strategically and intentionally. Teachers who leverage blended learning models, like the whole group rotation, can maximize connections between themselves and their students and among students. Those connections, and the relationships that will form as a result, will make the learning more engaging and meaningful.
If you want to learn more about blended and online learning, check out my self-paced online courses! They include video lessons, templates and resources, action items to help you apply what you are learning, and connect you with a community of educators working to cultivate a skillset and toolset that allow them to thrive in any teaching and learning landscape.