Teaching has always been a demanding profession, but this school year takes the cake! Teachers are navigating substitute teacher shortages, COVID protocols, and record numbers of absent students in addition to the normal demands of this job. It makes sense why so many educators are feeling mentally, emotionally, and physically exhausted. Yet, the last two years have highlighted how crucial school is for students and families. We need to retain high-quality teachers who enjoy this work and feel energized and fulfilled by it.
So, how do we help teachers approach this work in ways that are sustainable? How do we help them focus their energy on the aspects of the job that are rewarding? I'd argue that the answer is, in part, giving them the permission and tools to rethink traditional workflows. Too many of the workflows in education are teacher-centered, ineffective, and unsustainable.
These traditional workflows do not position the students to be active agents or help them to develop into expert learners, who are resourceful, strategic, motivated, and self-aware. Too many students spend their days in classrooms passively observing instead of actively engaging. As a result, they are not developing their metacognitive, critical thinking, and self-regulatory skills, all of which are critical to success both in the classroom and beyond. When teachers do the bulk of the thinking and work, they rob students of opportunities to develop these critical life skills.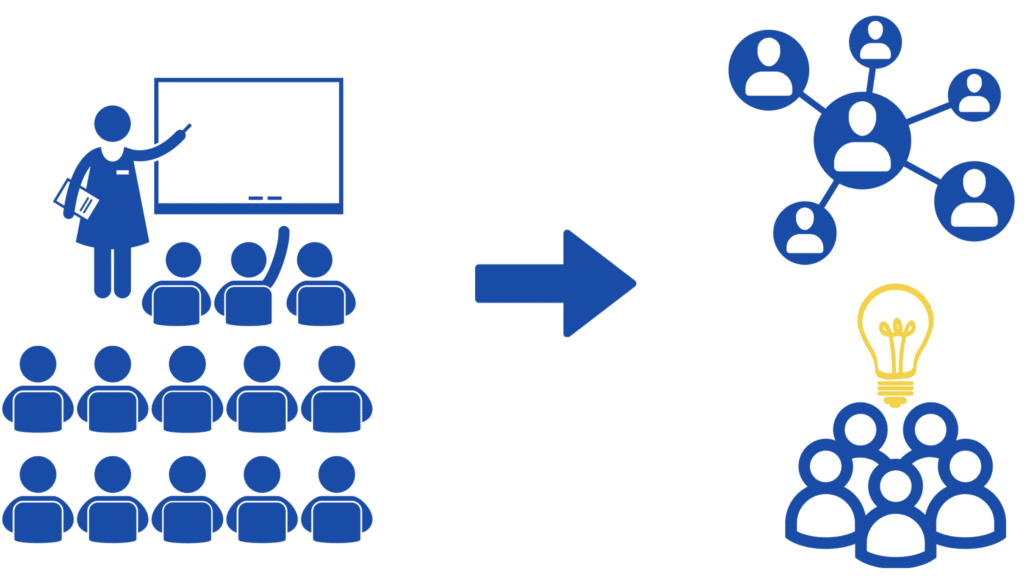 It's time to start reimagining time-consuming teacher-led workflows to make them student-led and sustainable! I teamed up with Dr. Katie Novak to write a follow-up to our book UDL and Blended Learning. In our second book, UDL and Blended Learning 2: Shifting to Sustainable Student-led Workflows (coming out in spring 2022), we tackle 10 unsustainable teacher-led workflows. We demonstrate how teachers can leverage universally designed blended learning to position students as active agents in the classroom and create the time and space for these new workflows.
| | |
| --- | --- |
| Workflow Shift #1 | From Transfer of Information to Student Discovery |
| Workflow Shift #2 | From Whole Group Teacher-led to Small-group Student-led Discussion |
| Workflow Shift #3 | From Reading as Solitary Endeavor to Reading for Connection |
| Workflow Shift #4 | From an Audience of One to an Authentic Audience |
| Workflow Shift #5 | From Teacher Created to Student-Generated Review and Practice |
| Workflow Shift #6 | From Formative Assessment as Teacher Tool to a Metacognitive Skill Building Tool for Learners |
| Workflow Shift #7 | From Feedback on Finished Products to Feedback During the Process |
| Workflow Shift #8 | From Teacher Assessment to Self-Assessment |
| Workflow Shift #9 | From Teacher Initiating Parent Communication to Learners Owning the Conversation About Their Progress |
| Workflow Shift #10 | From Teacher Project Design to Student-Initiated Project-Based Learning |
I've designed a new series of workshops that focus on helping teachers to transition from time-consuming teacher-led workflows to sustainable, student-centered workflows. The goal of these workshops is twofold. First, I want teachers to rediscover their joy and re-engage in this profession by embracing new ways of approaching this work. Second, I want students to develop into expert learners capable of sharing the responsibility for learning.
Leaders and professional development coordinators interested in scheduling a workshop for their teachers focused on shifting workflows can mix and match to target specific areas of need, customizing the learning experience.
You can complete the contact form to inquire about a hands-on, practice-based (virtual or in-person) workshop for your teachers. These workshops are also available asynchronously.