I've been in love with Shakespeare since college. However, the very thing I love about Shakespeare's plays–the language–is the exact thing that alienates so many students. The language is foreign and the humor goes over their heads. I've tried a variety of techniques to hook my students from having them complete soundtrack projects for the plays to performing the scenes in class. These have helped to engage my students, but I still finding myself spending a lot of time explaining what words, phrases, jokes and put downs mean.
While teaching a course at Stanford this year, I was fortunate to cross paths with the creators of MyShakespeare. This is a fantastic resource for teaching Shakespeare in the digital age. The site is brand new and there are currently 4 plays available–Julius Caesar, Hamlet, Romeo & Juliet, and Macbeth.
The site has interactive full-texts of each play complete with footnotes and multimedia resources. Each play includes:
Complete audio recordings that emphasize clarity and comprehension
Contemporary translations to make the language more approachable
Popup notes offering insights into literary devices
Animated videos that explore the play and spark further discussion
Performances of key scenes to bring the play to life
Interview with characters about the events unfolding in the play.
It was clear watching my students navigate the site that they enjoyed listening to the audio recording, reading the modern definitions of archaic words, and engaging with the popups that provide explanations about what is happening in each scene.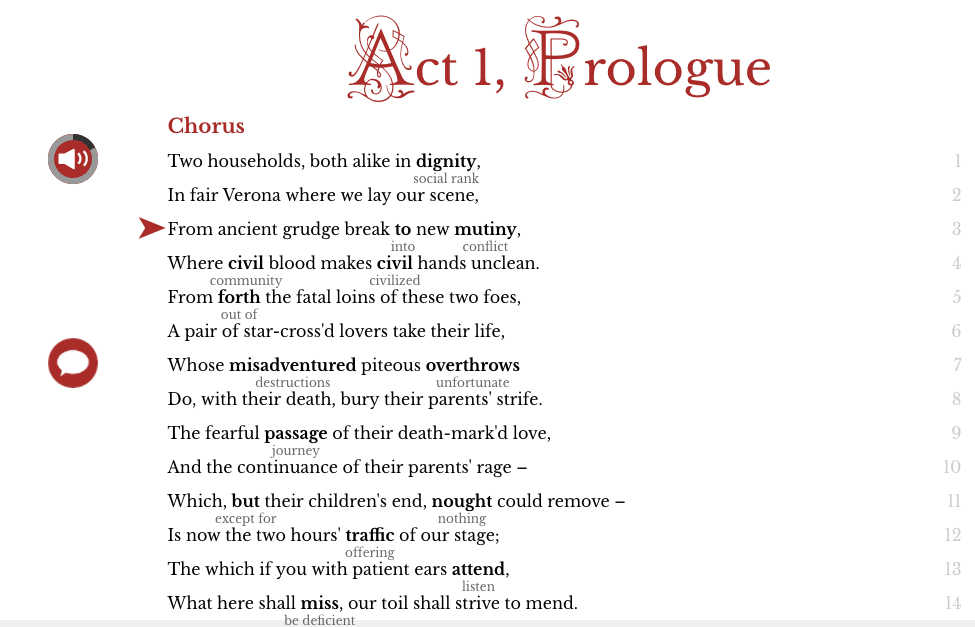 The video interviews with the characters are high quality and entertaining. They provide insight into the characters' thoughts, feelings, and motivations. These video elements are perfect conversation starters. They are also a great model for any teacher who wants his/her students to role play in order to learn more about the characters.
If you (or someone you know) is teaching Julius Caesar, Hamlet, Romeo & Juliet, or Macbeth, I'd recommend checking out MyShakespeare! It's exciting when new, high-quality resources pop up for our favorite texts.