Even though teaching online may feel like a different animal than teaching face-to-face, there are many similarities in terms of the building blocks of a lesson. The tools teachers use to engage students online are indeed different. It is also true that engaging students in learning activities online will require (at least initially) that teachers onboard students to those technology tools and support them in learning how to navigate online tasks. However, the activities and tasks teachers use to create their lessons offline can be transferred to the online environment if teachers know what tools to use.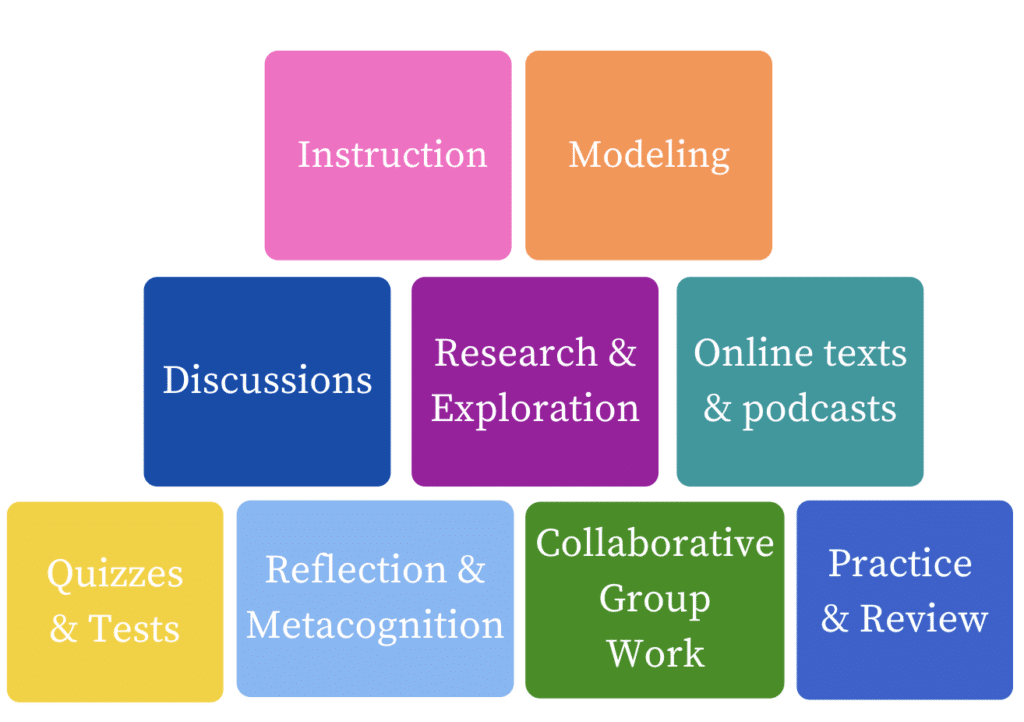 My suggestion when coaching teachers is to think about their online lessons through the lens of these building blocks.
Is there instruction or modeling students need to navigate a task or assignment? Would it be better to record a video and allow students to self-pace through the information or engage the group in a real-time video conferencing session?
Do students need to engage with texts or podcasts? Can teachers pair those resources with an online discussion prompt to encourage conversation and collaborative meaning-making?
Will you collect formative assessment data to assess prior knowledge or check for understanding?
Do you want students to reflect on their learning and stretch their metacognitive muscles?
All of these things are possible in an online course! It is just a matter of knowing what tools you can lean on to facilitate these different types of activities online. Below is a document that details each building block, the objective of that activity, and the technology tools teachers can use to engage students in that type of learning activity online.
Once teachers decide which building blocks they want to use to design their online lessons for the week, I encourage teachers to organize the tasks and resources in a single document. The incredible folks at the Nebraska Department of Education put together a template that I loved! I have included a modified version below for teachers who are looking for a structure to help them organize the building blocks of their online lessons. This template also encourages teachers to think about pairing online and offline options to give students a degree of choice. There may not be an "offline option" for every activity, but questioning whether or not students can complete a task offline is a habit worth cultivating in this time of distance learning.
As a parent, it is challenging to keep track of all of the individual assignments my two children receive each week on Google Classroom. It would be much easier to support them if I had a document like the one pictured above with all of the information, links, and resources for the week.
One of the biggest challenges that teachers face in this transition to online teaching is setting realistic expectations for their students. I caution teachers to embrace a "less is more" mentality to ensure that the volume of work they are assigning is manageable. Many tasks that we have done traditionally offline in the classroom take significantly longer online. We must set students up for success online and avoid overwhelming them with too much work.
If you have favorite tools or lesson planning strategies, please take a moment to post a comment and share them!
Want more support? Check out my self-paced online courses Getting Started with Blended & Online Learning and Advancing with Blended & Online Learning.