In my last blog, I focused on the Universal Design for Learning (UDL) principle of representation. I described how blended and online learning can help educators provide opportunities for students to perceived and engage with information presented in multiple modalities. I highlighted some of the affordances available online that can help students to manipulate digital information to make it more accessible.
In this post, I want to explore the third, and final, UDL principle of action and expression. Students have different strengths and limitations, so asking them to express their ideas in a single way (e.g., written response or verbal explanation) may not allow all students to effectively showcase what they've learned, or share what they know. It is critical to think about offering students agency when it comes to expression.
Action and Expression
Within the principle of action and expression, there are three guidelines: 1) physical action, 2) expression and communication, and 3) executive functions.
Physical Action
Traditional textbooks or workbooks provide limited means of interacting with information. As schools think about making learning accessible for all students, it is important to consider how instructional materials allow students to interact with information. For example, some educational products pair text with audio recordings to allow students flexibility in terms of their engagement with a text.
Often the devices students are using, like Chromebooks, have accessibility features (shown below) that can be adjusted to meet their specific needs or preferences. Students can enable select-to-speak and highlight the text they want to hear, they can enable diction making it possible to speak instead of type, and they can magnify what is on the screen or dock. It is important to let students know these features are available as it isn't always possible for teachers to know which features will be most useful to students as they work online. I encourage teachers to record a quick screencast highlighting these accessibility features on the devices students are using so that they and their families are aware of these features.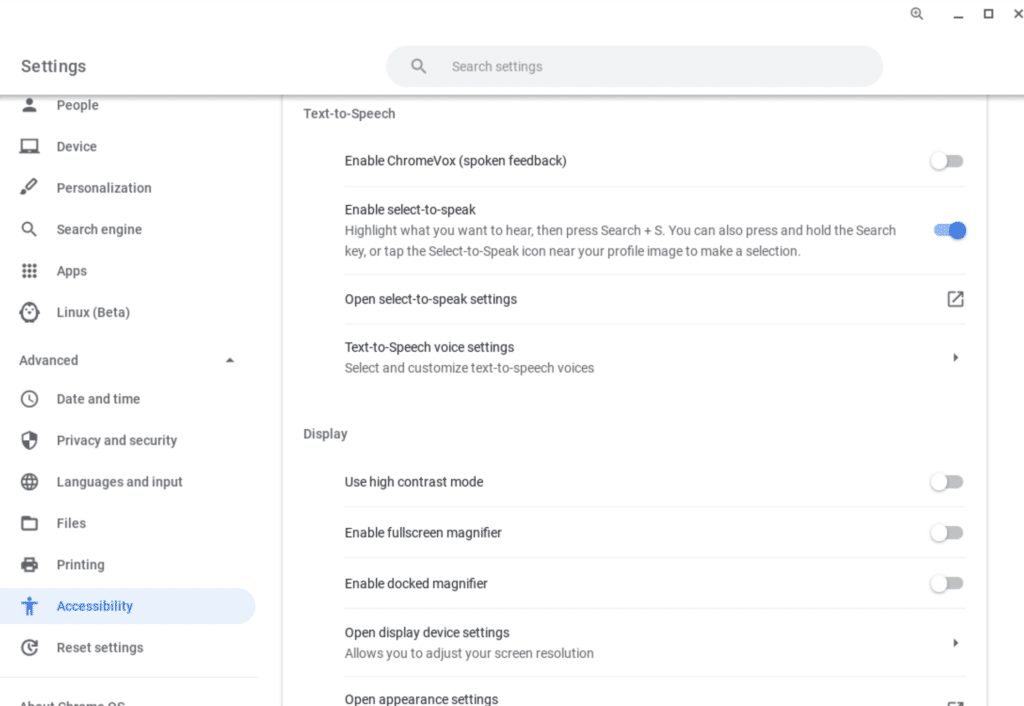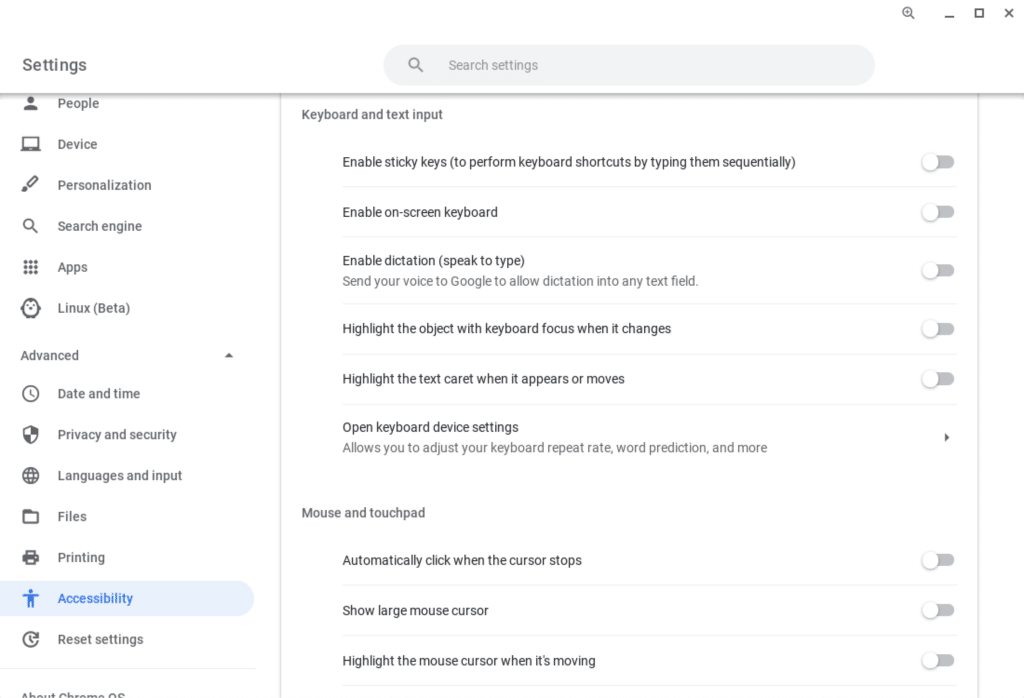 Similarly, teachers may want to explore the tools available in the technology tools they are already using with students. For example, students who are unable to type can use voice-to-text tools to compose responses to questions or complete written assignments inside of Google Documents.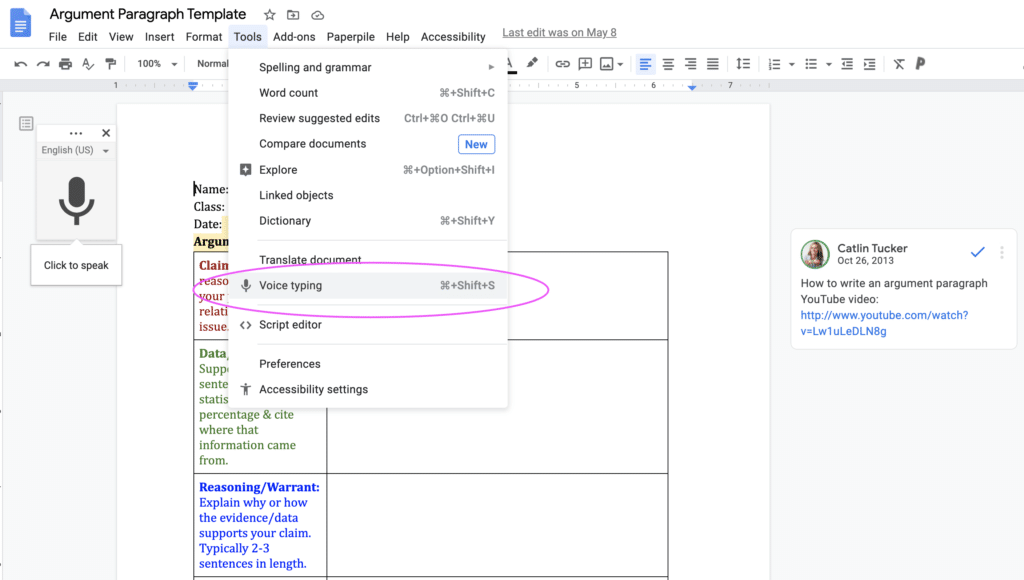 Expression and Communication
Teachers know that not all students excel at expressing their ideas or communicating what they know in the same way. Instead of requiring that all students surface their ideas or learning in the same way, teachers should consider providing various avenues from which students can choose. This choice allows students to select a strategy for communicating their ideas that is comfortable for them. It also yields a variety of products, which may be more interesting for teachers reviewing student work.
Blended learning and online learning provide a much-needed excuse to reimagine how teachers design learning experiences for students. Instead of planning a single lesson or experience for all students, which still happens in many physical classrooms, the online environment offers students multiple ways to access and interact with information and share what they have learned. If teachers embrace and celebrate that flexibility, students will experience more success when learning online.
Executive Functions
The process of setting goals, monitoring progress, and engaging in conversations with teachers about their academic growth can help students to develop their executive functioning skills. These are critical routines designed to help students build their metacognitive muscles, engage actively in their learning, and partner with their teachers in the learning process.
In my book Balance with Blended Learning, I share strategies teachers can use to support students in setting goals and tracking their progress toward those goals. I also emphasize the value of engaging students in regular conversations about their academic progress and anchoring those conversations in the academic, personal, and behavioral goals they have identified as valuable or important.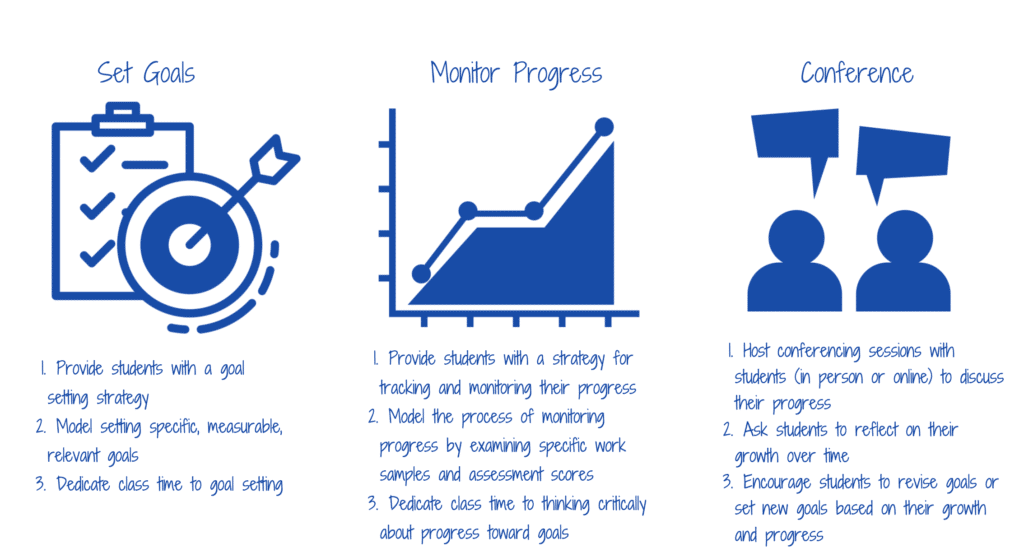 As I work with educators adapting to teaching online, I emphasize the importance of variety, flexibility, and student agency. Instead of viewing blended or online learning as inferior to the face-to-face experience, I'd love to see educators leverage the advantages of teaching and learning online by embracing the flexibility it affords and the opportunities it presents to allow students to customize their virtual learning environment and use a range of online tools to express themselves.
Need support getting started with blended learning or online learning? Check out my self-paced online course.