The end of the school year is a great time to do a few "housekeeping" items. This is probably the last thing you feel like doing after the year we have had! Despite finding these chores tedious while doing them, I always feel more organized afterward. Doing these things also makes planning for the upcoming school year less daunting come August.
Reflect on Teaching
Reflecting on a school year that I am anxious to put behind me is hard. So as I get lost in thoughts of sunny days without agendas or homework, I gently encourage myself to revisit the planning guide that most of us create at the beginning of the year and loosely follow. Whether you use a planning guide or not, they are a great place to make notes on what worked well and what didn't for you (and your students) this year. Ask yourself: What do I want to keep? What should I let go of? What needs some tweaking or reimagining?
This year presented an even more complicated set of circumstances as most of us sailed the uncharted waters of using new technology tools and experimenting with new technology-enhanced instructional strategies. You may need to ask yourself some additional questions:
Which of the new tools that you explored this year would you like to not only use again but explore more thoroughly?
Which of them didn't work for you? Why didn't they work? Should you abandon them or give them more of your time to see if there is something that you missed?
Is there another technology tool or online resource that you didn't get a chance to try that you might try next year?
If you used a learning management system this year (e.g., Google Classroom, Canvas, Schoology), what role will it play when you return to your classroom next year?
Taking time to reflect on the year when we are all exhausted may seem overwhelming, and it is, but time is of the essence. If I wait until the summer or closer to the next school year to do this, one of two things happens. Either I won't do it at all (sad but true) or the information is not fresh and at my fingertips like it is right now.
I adapted one of Catlin's templates and used it to create a Planning Guide that's perfect for capturing my thoughts on the year.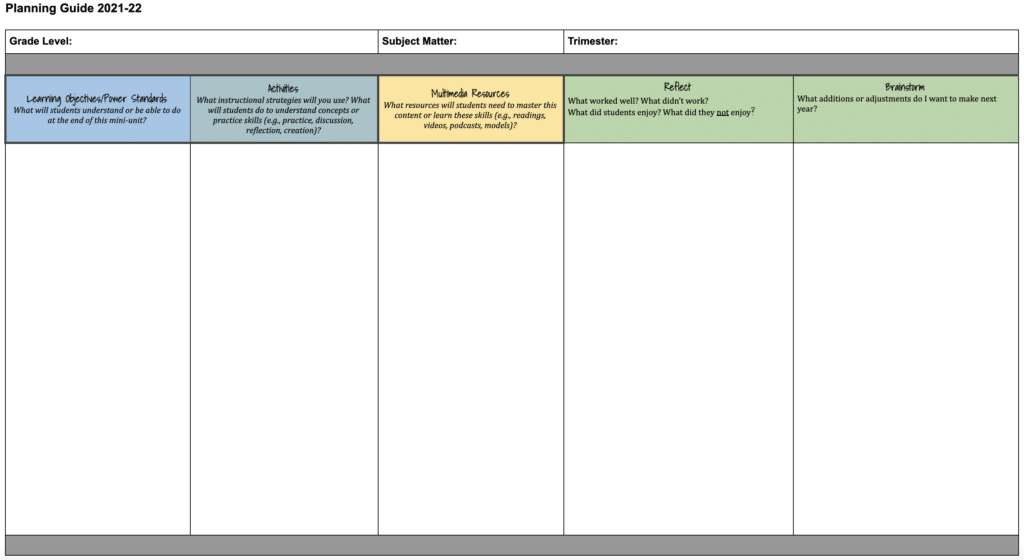 Whether you did or didn't make a planning guide, you can use this document to record your favorite activities of the year, reflect on the outcomes, and record your thoughts about what changes you want to make next year. You can be as detailed as you want. Any items you are able to record become the basis for your planning for next year. Then, enjoy your summer and come back to it with fresh, rested eyes in August!
In a previous post titled Save Your Sanity with a Things to Revamp for Next Year List, Catlin shared her "things to revamp for next year" document, which is another format teachers can use to reflect and capture their thoughts.
2. Clean and Organize Files
At this point, most of us rely heavily on Google Drive or the equivalent to manage our documents. Here is another place that we can reflect, edit, or purge.
Determine what you need to keep, what you can delete, and what needs to be organized into folders. Much like cleaning out your clothes closet, you can determine:
When was the last time I used this file or document?
Do I need to keep it or can I toss it?
Where should I file it so I can find it easily?
I remember hearing that if you haven't worn something in your closet for over a year, you don't need it. The same rule can apply to our files and folders. Just as a cluttered closet makes it challenging to find the clothes we want to wear, a cluttered Google Drive can bog us down and make it difficult to find what we need. Consider reorganizing your documents by topic, unit, skill set, or time period and color-code them for easy access. This can be a tedious task, so I recommend doing it in small bursts with frequent breaks.
Start with organizing your folders by broader topics, then sort the individual documents accordingly. For example, if you are an English Language Arts teacher, you may want to consider a file labeled "Reading," another labeled "Writing," and yet another for "Speaking/Listening'.' Additionally, you can create subfiles within those folders and organize your resources by novel, writing genres, or topic. You may also find that you have the energy to edit documents that you remember needed tweaking but didn't have the energy or time for during the school year.
Taking time to reflect on the year and organize your files is a great way to end the year, providing some much-needed closure and peace of mind. You'll thank yourself when you sit down to begin planning for next year!
This guest blog was written by Amy Tobener-Talley.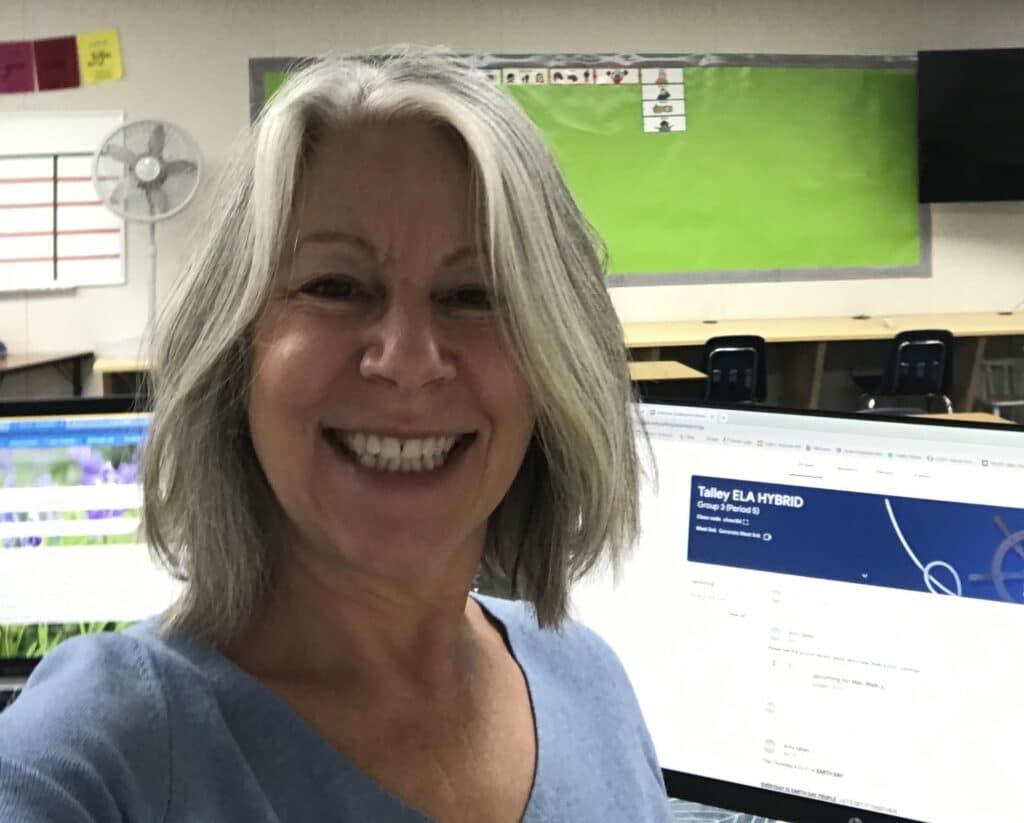 Amy Tobener-Talley teaches ELA, ELD, and Digital Technology at a dual-immersion language school in Sonoma County. She is bilingual (Spanish), Google certified, and passionate about leveraging her 15 years of experience to modernize teaching and learning. Through the use of digital tools and blended learning techniques, she has created a student-centered environment in which her students engage and thrive in active learning online and offline.
Leaders looking to support teachers with self-paced online learning opportunities this summer can request a quote for my Getting Started with Blended and Online Learning and my Advancing with Blended and Online Learning Courses!