I have a soft spot for the station rotation model. It was one of the first models, along with the flipped classroom, that I could employ in my low-tech classroom. In the early days of my transition to blended learning, I had one Chromebook, which I received after writing a Donor's Choose project. I thought, "What the heck? Let's give this station rotation model a try!"
I used that Chromebook to design a collaborative online station to complement my teacher-led and offline stations. I wanted students to collaborate, communicate, and create at that online station using the devices as a tool. They conducted research, investigated topics, and accessed online texts, resources, and tools. It was exciting to see how the addition of a single device enabled my students to drive their learning and engage in meaningful student-centered learning activities.
While my students engaged in student-centered learning at the online and offline stations, I enjoyed the dedicated time to work with a small group of learners at my teacher-led station. I customized my instruction, examples, models, and scaffolds for the students sitting in front of me. I felt more effective and engaged working with a small group of students. They responded in kind, asking questions, making comments, and leaning into the learning. I was hooked!
The Station Rotation Model Defined
The station rotation model does exactly what the name suggests. It is a series of stations, or learning activities that students rotate through. Typically, there is a teacher-led station, an online station, and an offline station. To be considered a blended learning model, at least one station must be an online learning station. When coaching teachers in a 1:1 environment where all students have devices, I encourage teachers to balance the online and offline learning activities to give students a much-needed break from the screen.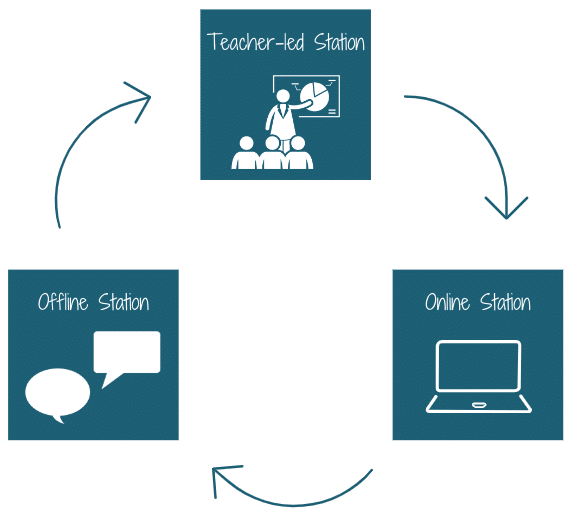 The Benefits of the Station Rotation Model
When I work with secondary teachers, I often hear the statement that "station rotation is an elementary model." That is incorrect. Just because many of us at the secondary level were not taught how to design lessons this way does not mean it is only beneficial for younger learners. To reinforce the reality that the station rotation model is a K-12 model, I highlight the benefits of this model for teachers, which include:
The ability to create small learning communities within the larger class.
Teachers have the time and space to facilitate differentiated small group instruction, engage learners in interactive modeling sessions, facilitate small group discussions, and provide real-time feedback on work in progress.
Students can be grouped flexibly (e.g., mixed skill level, strengths in a group dynamic, interest-based) depending on the lesson objectives.
Offline and online stations can be used to encourage communication and collaboration among students for the purpose of building community and offering peer support.
Since the whole class is not moving in lockstep through a single experience, teachers can prioritize student agency by building meaningful choices.
As students navigate tasks in a small group dynamic, they have more opportunities to control the pace of their learning.
Students, regardless of age, would benefit from these aspects of the station rotation model. So, how can teachers maximize the impact and effectiveness of this model? Let's take a look at each type of station.
Teacher-led Station: Differentiate and Engage
I've worked with teachers who don't see the value of station rotation because they repeat the same instruction for each group at their teacher-led station. I believe that repeating the same information the same way for all students, whether in a whole group or a small group dynamic, is not a great use of our time. Instead, I suggest teachers record short videos introducing information that they plan to present the same way for all students, so students can control the pace they consume and process that information. Then teachers can use their precious time with students on higher-value interactions.
Teachers should focus on two goals in this station: 1) differentiation and 2) engagement. Depending on the grouping strategy a teacher uses, they should consider how they can differentiate by adjusting their explanations, models, word choice, scaffolds, and supports to ensure every student can access the information or tasks presented. Teachers must be strategic about the level of academic rigor and complexity of the practice and application they are assigning to ensure that it is within their zone of possibility. In addition, teachers can strategically pair or group students within their stations for peer support.
Teachers should also think about how they are going to engage students at this station.
How will students actively engage at this station?
What role will they play in driving this learning experience?
Will they have an opportunity to voice opinions or ask questions?
Online Station: 4 Cs of 21st Century Learning
When I work with teachers, I encourage them to design their online station to prioritize at least one of the 4Cs of 21st-century learning: (1) critical thinking, (2) communication, (3) collaboration, and (4) creativity.
| | |
| --- | --- |
| Critical Thinking | "Tell me how" challenges on FlipGrid to get students to surface their thinking or reasoning. |
| Communication | Asynchronous online discussions in your learning management system so everyone gets to participate in the class dialogue. |
| Collaboration | Use a collaborative suite (Google or Microsoft) to get students collaborating in digital spaces around shared tasks. |
| Creativity | Allow students to use digital tools to create artifacts of their learning (e.g., digital stories, infographics, multimedia timelines) |
If we design our online station with one or more of these Cs in mind, students are more likely to stay engaged in the learning activity. Too often, the online station is relegated to individual work with adaptive software or watching a video. As a result, students quickly become bored or distracted.
Offline Station: Student Agency
Every student is different, so one task is unlikely to appeal to all learners. I encourage teachers to design this station through the lens of student agency. Student agency refers to the students' ability to make key decisions about their learning. Agency and autonomy can yield higher levels of motivation over time.
I suggest that teachers begin simply with a "would you rather" approach to agency so they do not feel overwhelmed by the prospect of generating many options. They can give students the chance to work alone or with a partner, make connections in a paragraph or visually in a concept map, annotate a text or draw sketchnotes. A simple but meaningful choice is more likely to keep students engaged at this station.
As I reflect on my early experiences with the station rotation model, I am grateful I had to begin designing collaborative tasks around a shared device. It helped me learn three important lessons that still inform my work in this space.
Learning is, in part, a social endeavor. As such, technology should not be used to isolate learners. It must be used to foster communication and collaboration among members of a learning community.
Technology is simply a vehicle. We can use it to connect students to information, resources, online tools, an audience, and each other. Technology should not be used for technology's sake.
Learning that is student-centered, student-driven, and student-paced is more meaningful, relevant, and engaging for learners.
Teachers shifting to blended learning and specifically using the station rotation model should "think big, but start small." Don't worry about differentiating, building in student agency, and prioritizing the 4Cs on your first attempt at a station rotation; however, know that there is always more you can do with this dynamic and flexible blended learning model!
Want to learn more about blended learning and the station rotation model? Check out my station rotation mini-course!