Guest post written by Amy Tobener-Talley.
The station rotation model is a great way to introduce your class expectations to a new group of students while simultaneously building relationships and developing your class community. In this post, I'll share some strategies and resources I found useful when preparing to use the station rotation model at the beginning of the school year.
The first few weeks of the year can be anxiety-inducing. For years, I felt daunted by everything I was supposed to cover. I overwhelmed and bored my students with way too much information instead of focusing on getting to know them. I longed for a better way to start the school year. I wanted those first weeks to be engaging and interesting.
In an effort to reimagine the first weeks of school, I decided to use the station rotation model to encourage my new students to interact with one another and learn about our class. I designed a collection of stations to encourage them to explore expectations for conduct, course requirements, goal setting, what it means to collaborate, etc. The results were incredible! I was able to breathe and enjoy the relaxing, student-centered atmosphere I had created. Instead of standing at the front of the room talking at them, students worked independently and collaboratively on the tasks at various stations. I was freed to circulate, facilitate, and connect with my students.
My beginning of the year station rotations have evolved each year. Below are tips for preparing a station rotation, so they run more smoothly.
Station Rotation Preparation Tips:
Create an overview of the first 2-3 weeks of school in your Google calendar planner or use Catlin Tucker's template.
2. Design a mix of 4-6 online and offline activities that correlate with what you usually cover in the first few weeks of the school year. Create an overview of the rotations with links to resources and documents. I suggest adding the link to this overview document to your digital planner.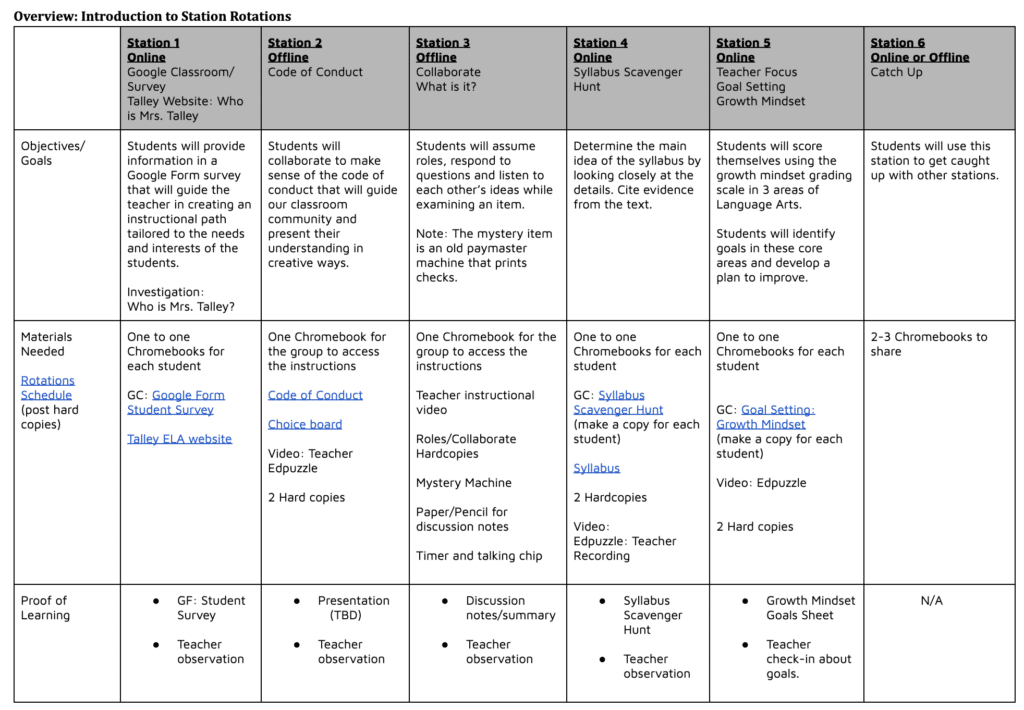 Note: This station rotation series pictured above is designed for a 6th-grade English Language Arts class. The groups cycle through the six stations twice in two weeks. Feel free to make a copy of the documents and tailor them to your needs.
3. Organize and edit all of the documents your students will need and decide what you will use as evidence of learning (e.g., written responses, videos, observations, presentations).
4. Create a slide deck with hyperlinks and student instructions for each station. You may want to consider using video to provide directions in order to save time.
5. Put your students in predetermined groups or let them choose their groups to see who they want to work with. For more information on grouping strategies, check out this blog.
6. Create an assignment in your learning management system (LMS) and post the slideshow overview with instructions. Post separate assignments for each online station, so students can access all of the resources and digital documents they need to complete the assignments.
7. Provide students with meaningful choices in the rotation to remove potential barriers that might make it challenging for all students to access the content.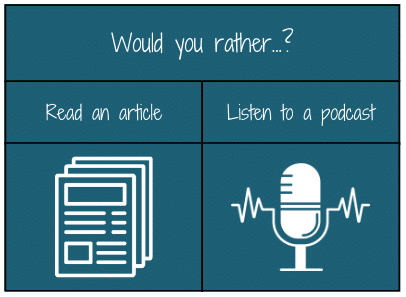 I hope these preparation tips help you use the station rotation model to design a more student-centered start to the year that is less stressful, frees you to engage with your students, and helps you build a strong community!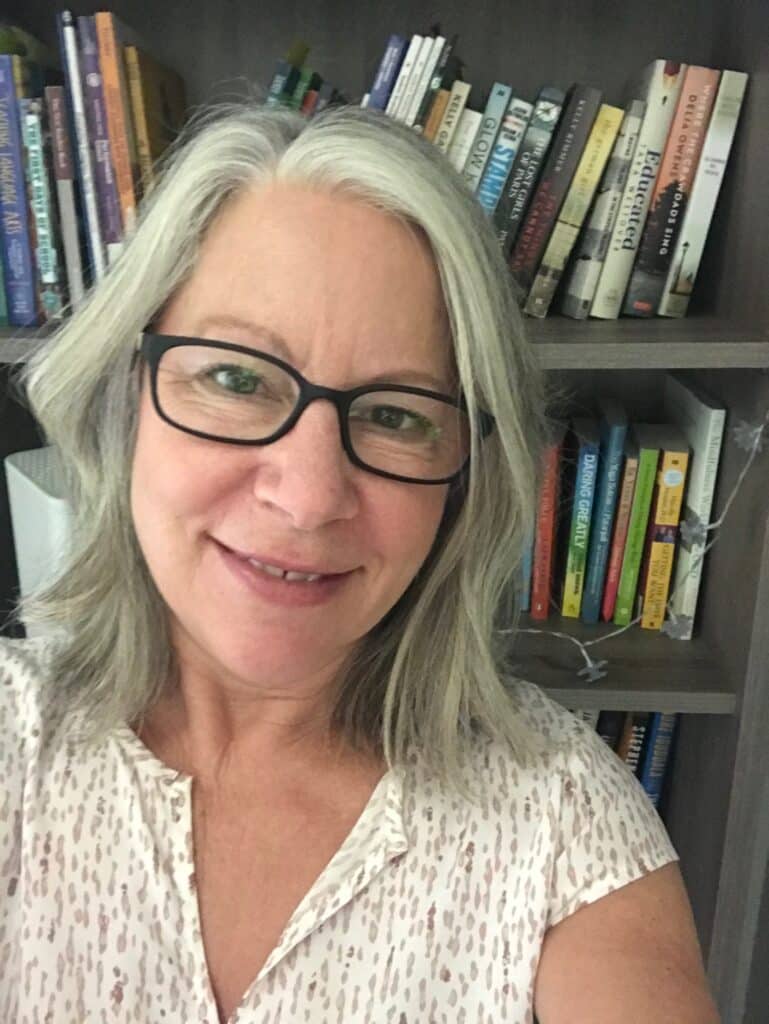 Amy Tobener-Talley teaches ELA, ELD, and Digital Technology at a dual-immersion language school in Sonoma County. She is bilingual (Spanish), Google certified, and passionate about leveraging her 15 years of experience to modernize teaching and learning. Using digital tools and blended learning techniques, she has created a student-centered environment in which her students engage and thrive in active learning online and offline.
🍎 Courses on Sale for Back-to-School!
My Getting Started with Blended and Online Learning, Advancing with Blended and Online Learning, and UDL and Blended Learning courses are on sale this August for teachers who want to do a deep dive into blended learning as they prepare for the new school year! If you are a leader and want a quote for bulk licenses, you can complete this form for getting started and advancing with blended learning courses or this form for UDL and blended learning!